NEWS
Wednesday Night TV Roundup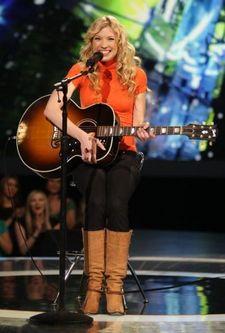 TV Fanatic breaks down your fave shows of the night: American Idol and Project Runway!
American Idol: "Okay, so after watching the girls' tonight, I'm thinking they should be worried. Not one performance really jumped off the screen tonight like it did Tuesday for the boys. Don't get me wrong, all these gals have talent, but no one seems to have "it." Many were victims of their own poor song choice, which seemed to be the judges' biggest complaint of the night, and mine too.
Article continues below advertisement
Carly Smithson kicked off the night with Heart's "Crazy On You." It's good – she hits all the strong notes – but I'm with Simon on this one. She's is supposed to be the golden girl with a once-in-a-lifetime second chance; where's her golden moments on stage?
Syesha Mecado says her hidden talent is that she's an actress, and follows with a so-so female version of "Me and Mrs. Jones." I'm thinking she may want to pursue that acting career, fulltime.
Ramiele Malubay and Alaina Whitaker give decent, but safe performances. Both of these gals can sing in their own right. Now they just need to let the nerves go and really belt one out.
Kristy Lee Cook's "You're No Good" wins her back into the graces of the judges, but Simon says he really doesn't know what type of performer to categorize her as. He feels country would be a better route for the Carrie Underwood-ish singer to take. Yep, then maybe Alexandrea Lunshington could have sang Kristy Lee's song instead of flat-lining on "If You Leave Me Now." The judges no like. They really no like Amanda Overmyer, who has proven she's definitely not ready for this competition with a whiny, out-of-tune version of "Carry On My Wayward Son." It. Was. Bad. Period. But I'm thinking Kady Malloy's "Magic Man" was even worse, since she pulled an Amanda and barely enuciated.
Article continues below advertisement
I knew that Simon was going to crucify Asia'h Epperson for attempting "All By Myself," flawlessly resurrected by Celine Dion. It was a valiant effort – she did hit the hard notes in the end. But it was watching her struggle up enough voice to get to them that killed the performance. If you're going to rock a song like that, you got to make it look effortless.
Which leaves Brooke White's "Your So Vain" performance. I'm a straight gal, but Brooke is so pretty, I kind of get lost just looking at her. It wasn't the best vocals by far, but Brooke's light and airy nature along with the songs bouncy beat worked for her, and she knew it. So did the judges. They gave her the pimped up praises of the night.
My predix of who's going home this week? Jason Yeager, Luke Menard, Amanda Overmyer and Kady Malloy." – TV Fanatic
Project Runway: "The remaining designers are given $8000, and sent home to create 12 looks over the next five months to show at Fashion Week. (If you don't know by now, five designers actually showed at Bryant Park during Project Runway's fashion show – yep, Sweet P's tears were fer nuthin, but for argument's sake we'll keep the show's foruth wall in tact. And since I was in the audience, thanks Tim Gunn for calling me influential! ) Chris and Rami leave knowing they are making a collection that may not get its debut. No added pressure there! Tim stops by Cristian's and discovers he works in a New York City space which is about as big as my kitchen. And my kitchen is T-I-N-Y. Cristian's already sewn enough stuff to outfit a small country, but with feather-lined pants and gathered tulle neck pieces, Tim thinks the collection may come off too gimmicky. "Work hard. Think harder," he advises. Words to live by Tim! He then stops by Jillian's, who has left her job behind to finish her collection. Tim loves the handiwork, hates the color palette. He then travels to Long Island to meet Jillian's family, and we learn her mother expects greatness from her daughter. No added pressure there! Rami shares the poignant story of how his family discovered his fashion talents. Tim likes his collection, though he feels it may need to come down a notch. Tim's last visit is with Chris, who is trimming his clothing in human hair. As a gal who regularly rocks extensions, this doesn't gross me out as much as it does Tim. Tim's metaphor about staying too long in the monkey house is hilarious! The designers return to NYC where Rami and Chris have their walk-off. I'm sweating for them! And the last spot goes to: Rami! Oh well. Chris, if you don't know what to do with all those left-over extensions, give me a call!" – TV Fanatic