NEWS
Wednesday Night TV Roundup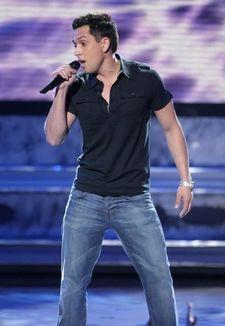 TV Fanatic breaks down your fave show of the night: American Idol!
American Idol: "Jim Carrey starts thing off with a plug for Horton Hears a Who. He isn't even trying to fake the synergy as he points out, yes, Horton is a Fox film. I think the opening number the contestant performs before elimination drags the show down. It always sounds like a high school show choir. And a mediocre one at that. Well, until David Cook comes on. Notice the yells from the audience are
Article continues below advertisement
getting louder! Former wonderboy David Archeuleta must be pissed. And
just to put this on point: Elizabeth, I extolled D.C.'s praises before
you did, so I'll be the only one sculpting his head out clay over the
weekend, thank you very much! Michael Johns almost has his moment
during his rift. He'll get there soon enough! Sooo, another week of the
Beatles? Hey, the producers have waited this long for that songbook,
they are going to milk it for everything it's worth! The elimination finally gets underway and Ryan asks Carly Smithson, Michael Johns, Jason Castro and Syesha Mercado to stand up. I'm thinking Syesha is in the bottom three, and I'm right! Then it's Chikezie, Amanda Overmyer, David Cook and Kristy Lee Cook's turn. She practically begs for the mic. Ryan tries to play it off, saying maybe she's not in the bottom three, but we all know the real deal: it's No country for American voters. The show wastes a hunk of time taking live questions from people throughout the nation. BORING! (And the thought of Simon and Ryan duking it out in the mud, ewwwww). Season five runner-up Katharine McPhee hits the stage for a performance. There's a reason she doesn't have a big singing career these days. No, she
Article continues below advertisement
sounds good, and looks happy. Marriage must agree with her. Jimmy Carrey
plugs Horton Hears a Who, again, from the contestant pit. We need our
last bottom three! And it's a surprise: David Hernandez! (I would have bet it
would be an all-girl bottom three.) Ummm, isn't weird that we have to
hear the people we didn't vote for sing again? Yes, remind us that you
sucked! So who is going home? David! Shocker! He says we'll see him at
the top. With his shirt on, we hope!" — TV Fanatic
What did you think of last night's elimination? Let us know!