NEWS
Wednesday Night TV Roundup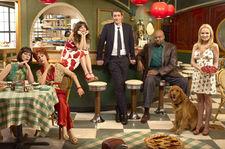 Talk about a hot TV night! TV Fanatic could hardly tackle it alone, so I called in OK!'s Derek Ivie and Joyce Eng to help give their take on the night's line-up!
Pushing Daisies: "There are millions of adorable, smart, eligible women in the world. But Ned, who has the gift of bringing back the dead, only has eyes for Charlotte – a.k.a. Chuck – the childhood sweetheart who he's brought back to life and can never touch again. I guess every relationship has its quirks." – TV Fanatic
Article continues below advertisement
America's Next Top Model: "I can't believe Jenah had to walk in that silver metal meltdown of a gown when the other girls could practically skip down the runway! Saleisha wins the challenge. Her fight with Bianca? Not so much. The photo shoot has the girls trying to rock a rock climbing challenge. Tyra incessantly praises her ears, but Kimberly, the cutie from Ocala, Fla., is still sent packing. Whoops! Looks like she didn't listen to last week's critique! PS: Next week is makeover week! Who's excited for would-be model breakdowns?" – Derek
Private Practice: "Sick babies switched at birth, heartbroken mamas, deceptive daddies? Private Practice is working overtime to get me to break out the tissues. Granny poisoning her alcoholic son to get him to stop drinking was a little extreme, but hey, all my Nana's home remedies work. Good thing Ginger's a stripper. If she wasn't working the booty shorts, that unsightly rash might still be a mystery!" – TV Fanatic
Article continues below advertisement
Gossip Girl: "The Blair Bitch Project continues when the petite brunette attempts to expose Serena's darkest secret – a supposed stay in an alcohol abuse/mental health clinic – at a lofty Ivy League gala only to discover the subject of her humiliation is another van der Woodsen. But no worries, S and B have a truce for now. Other new friendships formed – Erik and Jenny; Dan and Nate; and lest we forget Chuck and his numerous one-night stands. 'Glamorous' indeed." – Joyce
Dirty Sexy Money: "Man of the cloth Brian Darling tells his illegitimate son Brian Jr. to pretend he's an orphan from Sweden so he can keep his wife and daughter in the dark about having an affair. His son is six! This bad dad is definitely not wining any awards for best father of the year." – TV Fanatic
What did you think of the night's shows?