NEWS
Weeeeekation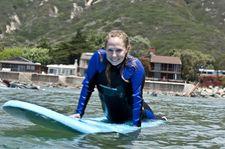 I love when a spontaneous two-day weekation to a nearby locale can have the same fun factor and stress-relieving effects as a pre-planned week-long trip to a far away destination.
I just returned from Oakley's "Learn to Ride" Surf trip and in 36 hours I learned to surf, talked to a vampire, danced with an Entourage favorite to mixes by the Madden brothers – and watched the Lakers win the NBA finals. Weekends don't get much better than that.
Article continues below advertisement
I'd been a bit ambivalent about stowing away to Santa Barbara for a weekend of surfing because I'd previously treasured the idea of a rare weekend at home in LA, but jumping in the car Friday and heading up the coast was one of my better decisions.
Friday night we spent sipping freshly squeezed grapefruit margaritas while listening to musician Kelley James at the Barara Resort but the next morning we were up bright and early for a day of surfing.
After arriving at the beach (late because our driver got lost), I had two minutes to find a wetsuit before a five-minute land lesson on surfing before hitting the water. The quick turnaround was probably best because it kept me from overthinking what I was about to try. Thanks to the well-trained Oakley professionals, within ten minutes I was standing on a surfboard riding a wave – with Twilight's Ashley Green (Alice Cullen), Mario Lopez, Adrien Grenier and Lo Bosworth all with their instructors doing the same.
Article continues below advertisement
It was more or less the first time any of us had really surfed. Extra's Mario Lopez (formerly Slater on "Saved by the Bell") said, "I'm an inner-city kid, but I'm going to try. This should be good comedy."
Like the rest of us, he sold himself short and not only surfed but also did whatever it's called when you stand on a board and wade through the water with a paddle – probably as close to walking on water as one can get.
We were out in the water for about two hours before taking a lunch break and after a salad and chocolate Muscle Milk I was recharged to go back again. Riding waves is such a high and there's such a feeling of comraderie sitting on a surfboard out in the ocean waiting for a wave. The experience gave me a great glimpse of the bond that exists in surf culture. While I won't be moving to the beach and waking up at 5am to catch the best surf anytime soon, I do think I will be investing in a wetsuit and longboard (definitely the easiest to for a beginning) for future daycations.
Article continues below advertisement
Following a fantastic day of paddling around in the ocean, we joined the fun crew from Oakley for dinner and dancing at a beautiful Santa Barbara ranch. At the ranch I had a chance to get to know Ashley Greene - Twilight's beautiful vampire sister Alice Cullen, who, along with Entourage's Adrian Grenier, took the lead on the make-shift grassy dancefloor where Joel and Josh Madden spun tunes from Lady Gaga and The Black Eyed Peas to Rob Bass and OPP. Check out a future OK! (and back here) to learn more about Ashley .
Today I'm feeling muscles that I didn't know existed, but combined with the Lakers win, I'm definitely riding a high. Hope you had a good weekend ;) xo