NEWS
Weezer Frontman Rivers Cuomo Making a Steady Recovery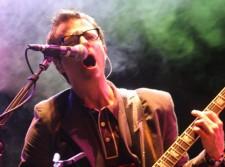 Rivers Cuomo is making significant health improvements after a tour bus accident this weekend left the Weezer frontman with a punctured lung and damaged spleen. Cuomo "went from being barely able to talk and open his eyes yesterday to partially sitting up, talking clearly, reading books and checking the internet," according to Weezer's official Web site.
The site also states that his blood pressure has stabilized, his spleen is "no longer leaking" and his lung is "gaining strength."
Article continues below advertisement
"Tomorrow the doctor says it will be time to see if Rivers can stand up again," the site states, "If that goes well and his vital signs remain stable and improving, he will get to go home pretty soon! Wish him well - your positive energy and thoughts are working so far!"
Rivers, 40, and the band's assistant Sarah Kim were taken to St. Mary's Hospital in Amsterdam, N.Y., following the accident early Sunday morning in the upstate town of Glen, about 40 miles west of Albany.
Police say the vehicle struck ice at 7.22 a.m. and the driver lost control. The bus mounted a median, then swerved back across the eastbound lands, rammed a guard rail on the right shoulder and crashed into a ditch alongside the roadway.
Sarah was released from the hospital yesterday to recover in the privacy of her home.