NEWS
"West Memphis 3" Have All Been Released From Prison After "Pleading Guilty"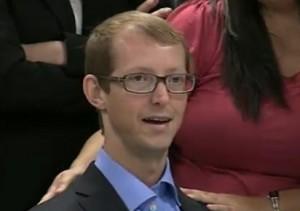 Damien Echols, Jessie Misskelly Jr. and Jason Baldwin (aka the "West Memphis 3") plead "guilty" today in exchange for their freedom and have all now been released from prison.
OK! NEWS: "WEST MEMPHIS 3" GET SUPPORT FROM PEARL JAM & DIXIE CHICKS IN COURT
According to TMZ, each of the defendants met with the judge and issued a "guilty plea," but "in the interest of justice, they will go free."
"Just moments ago Damien Echols, Jason Baldwin and Jessie Misskelley Jr. plead guilty to the murders of Stevie Branch, Christopher Byers and Michael Moore," the lead prosecutor said in a statement.
Article continues below advertisement
OK! NEWS: "WEST MEMPHIS 3" COULD BE FREED THANKS TO FILMMAKERS JOE BERLINGER & BRUCE SINOFSKY?
"Since the original convictions, two of the victims' families have joined forces with the defense, publicly proclaiming the innocence of the defendants. The mother of a witness who testified about Echols's confession has publicly questioned her daughter's truthfulness, and the State Crime Lab employee who collected fiber evidence at the Echols and Baldwin homes after their arrests has died," the statement continues. "In light of these circumstances I decided to entertain plea offers that were being proposed by the defense. I never considered any arrangement that would negate the verdicts of those two juries. Guilt or Innocence was never on the table."
"Today's proceeding allows the defendants the freedom of speech to say they are innocent, but the fact is, they just pled guilty. I strongly believe that the interests of justice have been served today."