NEWS
What On Earth is Amy Winehouse Doing This Time?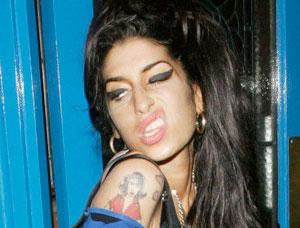 H Amy Winehouse, what would we do without seeing our favourite London girl showing off her boob job and striking random poses on a weekly basis?
And last night was just the latest installment of Amy Winehouse's evening escapades as she rocked up to the exclusive Libertines gig in London and took it upon herself to entertain photographers.
Oh Amy Winehouse, what would we do without seeing our favorite London girl showing off her boob job and striking random poses on a weekly basis? And last night was just the latest installment of her evening escapades as she rocked up to the exclusive Libertines gig in London and took it upon herself to entertain photographers. (it gets worse - check it out here!)
Article continues below advertisement