NEWS
What Super Sweet Thing Did Nick Cannon Say About Wife Mariah Carey? Find Out!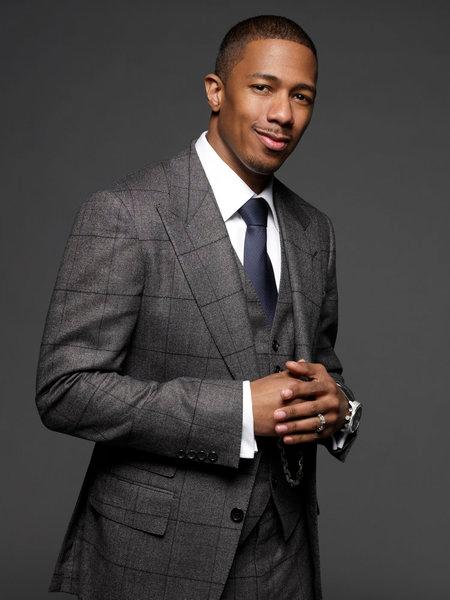 After chatting with Nick Cannon at the America's Got Talent press panel yesterday in Los Angeles, it's easy to see why Mariah Carey fell so hard for the hard-working entertainer. With his wedding anniversary coming up (as well as the birthday of his twins Moroccan and Monroe), the AGT host revealed he has a few tricks up his sleeve for the big day.
Watch: Jay-Z and Kanye West Meet Up in NYC
"Their (the twins) birthday is also our wedding anniversary and we renew our vows each year, so last year we did the Eiffel Tower and Paris," says Nick. "This year we're trying to top that. It's next week so we're spending all of this week and this weekend planning to make it as grand as possible."
Article continues below advertisement
Watch: You'll Never Guess Where Nick Lachey and Vanessa Minnillo Are Moving!
When asked what has surprised him most about marriage, Nick gave the most ah-dorable answer.
"How easy it is, honestly," he says. "I don't want to knock on wood or anything, but honestly it's probably the easiest part of my life is being married to my dream girl. When everything else is going crazy it's like, 'Wow, I have someone who loves me unconditionally.'"
Article continues below advertisement
The vibe on the Real Husbands set is what makes the project so much fun for Nick and when it comes to joking around, nothing is off limits.
"They go for the jugular," he laughs. "There's a Mariah joke every five minutes."
How does his wife handle that, you ask?
"Honestly, Mariah has never seen the show," says Nick. "She probably wouldn't be happy about some of the things I say or things that happen on that show. We just don't care. When you have friends like that…Kevin Hart had a DUI last week and I instagrammed a picture right when he got out. He hadn't even changed his clothes and we were on set and I was like, 'Fresh out of jail!'"
The new season of America's Got Talent premieres June 4 on NBC.
Where do you think Nick and Mariah should renew their vows? Tell us in the comments below or tweet @OKMagazine.