NEWS
What Was Paula Thinking?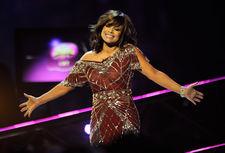 In what has to go down as one of the most confusing moments in American Idol history, judge Paula Abdul not only had something negative to say about one of the performers — her criticisms were about a song the finalist had yet to perform!
With only five contestants remaining on the hit show, Tuesday's Neil Diamond-themed episode allowed each of the finalists to perform two songs. And unlike most airings of Idol, where the singers are critiqued by the three judges immediately following their performance, host Ryan Seacrest waited until after all five had each sung one tune before asking the judges for a quick, half-time round-up.
Article continues below advertisement
And when Paula got to Jason Castro, she praised him for his performance before telling him that on "the second song, I felt your usual charm wasn't — it was missing for me. It kind of left me a bit empty... you're not fighting hard enough to get into the top four."
This would have been a valid note from the judge had Castro actually performed a second song.
Paula's confounding comment had the finalists and the audience struck dumb, wondering where in the world it had come from.
When her mistake was pointed out to her by Ryan and fellow judge Randy Jackson, Paula could only comment that she was sure Castro had sung twice.
"This was officially the strangest show we've ever done," judge Simon Cowell, who had mostly laughed through Paula's earlier confusion, said at the end of evening, ''but I like that."