NEWS
What We Learned On Last Night's Real Housewives of Miami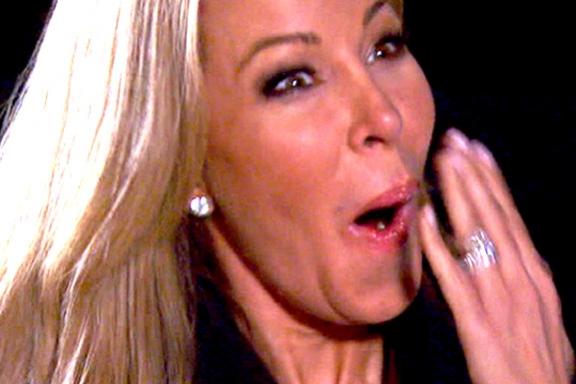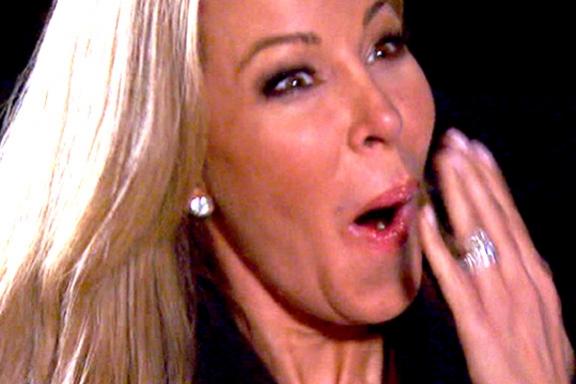 Lisa's face says it all, this episode of Real Housewives of Miami is full of, "What?!?!" moments.
Joanna, Lea and Lisa head to Los Angeles to help J with her wedding planning and no one is more blinged out on this flight than Ms. Black. I'm thinking sh would not approve of my typical airport attire which basically consists of whatever I rolled out of bed in.
Article continues below advertisement
Back in Miami Alexia is working at the latest Venue magazine cover shoot. She explains that she hires Peter to work at the shoots to give him some focus and ultimately keep him out of trouble.
Joanna's LA home is swank. I would never go back to Miami if that was my pad. I had no idea Joanna has taken in so many animals but apparently she has started her very own rescue. Where have I been?
Still at the Venue cover shoot, Alexia talks about how she worries Peter looks up to his father, who was involved in a serious drug ring, too much. Peter is angered by a cab driver who flicked off the crew and kicks his car. The driver gets out of the cab and starts an argument. Fortunately Alexia is able to diffuse the situation when a cop arrives on the scene.
Joanna takes the ladies to her wedding venue, the Park Hyatt Aviara, and they get all kinds of emotional as they take a look at the ceremony site.
MORE ON:
real housewives of miami
Article continues below advertisement
OK! News: Celebs Reveal Who Makes Them Starstruck At BAFTA's TV Tea
Meanwhile in Miami Adriana and Frederic are moving forward with their own wedding plans. She explains that the guests have to change from white at the ceremony into 1920s attire ala The Great Gatsby for the reception. Adriana's son Alex appears to be the only voice of reason when he asks if she expects everyone to change in their cars. I'm glad someone is on top of the logistics here.
Joanna tells Lisa she wants her to choose between being her bridesmaid or Adriana's. I'm typically on Team Joanna, but this isn't cool and puts Lisa in a really tough spot. Ultimatums are no bueno.
OK! News: Tarte Cosmetics Heads To QVC For a Major One-Day Deal
Alexia's mom tries to help bridge the communication gap between her and Peter. He's upset Alexia kept so much information about his father from him for so many years. They seem to have a small breakthrough.
Article continues below advertisement
Lisa visits Lea at her LA abode and their talk about Birkin bags completely blows my mind. Then, Lea's friend Maxime, a genuine Birkin collector, arrives to show off his array of bags, which just drives Lisa to expand her own collection even more. Lea starts calling all of her Hermes connections and it looks like she's gonna get it done.
The LA women regroup for dinner at Koi, a celeb-loved sushi restaurant. Joanna is introducing her friends, two of whom are bridesmaids, which makes Lisa a little uncomfortable and the ultimatum is revisited. Joanna's mom offers sage advice saying Lisa should be in both weddings. Mom knows best!
Which Miami wedding are you most excited for—Joanna's or Adriana's? Tell us in the comments below or tweet @OKMagazine.