NEWS
What You Can Tell About the Girls from 'Teen Mom 3' From Their Twitter Feeds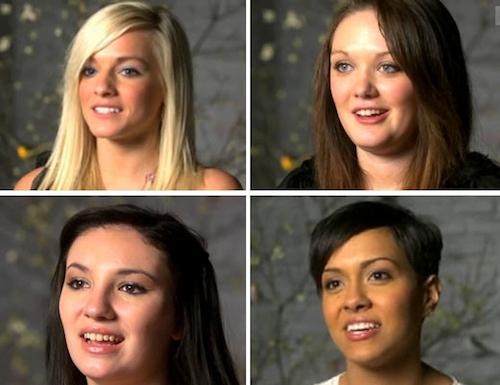 Mackenzie Douthit (Top Left)
From: Miami, Oklahoma Baby Daddy: Fiancé Josh McKee Mom to: Son Gannon
Her Twitter Reveals: Pretty eyes! Moving on, she just won second place in a hairstyling competition and is into GTS: Gym, Tan, Snuggle Time. She's probably bubbly. She loves her fiancé. She loves tumbling. She loves Instagram. She loves life. The most negative thing Mackenzie wrote on her Twitter recently was, "Gotta love rumors right? ;)" I feel like I just overdosed on sugar, but more power to her. Her baby is super cute, too.
Article continues below advertisement
Katie Yeager (Top Right)
From: Green River, Wyoming Baby Daddy: Joey Maes Mom to: Daughter Molli
Her Twitter Reveals: Katie seems like a refreshing combination of sweet and sarcastic. My favorite tweet? "Baby you're the reason I get up in the morning! Just kidding I need to pee." First, this is funny. Second, I identify with it. Third, she knows the correct form of "your" for this statement. I wish she used a couple of commas, but it's Twitter so it's OK. Also, she's apparently game for just about anything, including being set up by her Twitter followers (or at least, not blocking followers who attempt to do this) and wearing knee-high gladiator sandals. Which I'm not a fan of, so I hope she reconsiders. Most importantly, I'm entirely convinced that she did not name her baby after ecstasy.
Alexandria Sekella (Bottom Left)
From: Allentown, Pennsylvania Baby Daddy: Matthew McCann Mom to: Daughter Arabella
Her Twitter Reveals: She hates feeling bloated. (Me too, girl.) Her baby is really cute. Her Twitter was recently hacked, so I feel like I can't properly assess the feed. That almost made me sound like an accountant. Speaking of accountants, Alexandria may or may not have put the money she made from MTV into a trust fund for Arabella. If she did, kudos! She also may or may not have referred to her child's daddy as a "bastard sperm donor." If she did, kudos! Teen Mom 3 should be interesting.
Article continues below advertisement
Briana DeJesus (Bottom Right)
From: Orlando, Florida Baby Daddy: Devoin Austin II Mom to: Daughter Nova Star
Her Twitter Reveals: Briana likes to laugh. And she likes to tweet, and she likes to combine these things. I have to admit to finding humor in most of the same things that Briana does. Like this picture of a baby, for example. She seems to be a proud mama! She tweeted recently: "Glad she's all mine, she brings so much joy to my heart!!!" Aw. I recently said that about my new Michael Kors bag, but I'm willing to bet Briana's talking about her baby, who is also described as beautiful and a mini Britney Spears. This baby sounds awesome. And she's super cute, too. What else? She really likes Chipotle and her cell phone is for sale. Could be worth something someday, tweeps.
Are you excited for Teen Mom 3? Which story do you think is going to be your favorite? Let us know @OKMagazine!