NEWS
What's it Like to Interview Angie?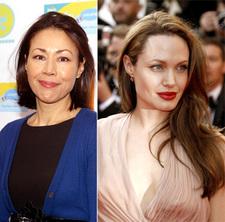 Most people won't have the chance to see Angelina Jolie or Brad Pitt in person, much less speak to them, but NBC journalist Ann Curry has interviewed the couple many times, and says they're just as impressive in person as they are in magazines and movies.
"I like her a lot," Ann tells OK! at the UJA-Federation of New York's Leadership Awards Dinner on June 9 of interviewing Angie. " I see her as a very smart person, a very compassionate person who does movies."
Article continues below advertisement
But beyond talking about Angelina's work onscreen, Ann says they also chat about what really matters in life.
"What I love is that when you talk to actors you know the good they can do – it's really touching because there are so many reasons why they could be just selfish and focus on themselves, but they're not," Ann explains to OK!. "When very very powerful people like Angie and Brad are focused on lovely projects that really change peoples' lives you just want to applaud them. It's just fantastic."
Speaking of fantastic projects, Ann let it slip that the power couple might have something big in the works.
"In fact I may be talking to Angie coming up very soon," Ann reveals, adding that while she can't tell all right now, it's "something important and I'm excited to see her again."
PICS OF ANGELINA: