NEWS
What's in Your Stars?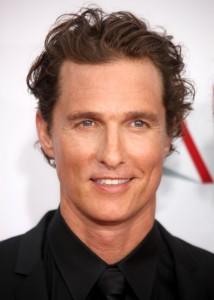 November 4
Today's celeb birthdays
1960: Kathy Griffin (50)
1969: Matthew McConaughey (41)
1969: Sean 'P.Diddy' Combs (41)
1970: Bethenny Frankel (40)
Scorpio
You're getting a much clearer picture of what you want out of life and what is going on behind the scenes will help to drive your plans forward. So don't hesitate to make that private or confidential call today. Home and family are at ease. Call me to hear when you simply can't please all of the people all of the time.
Article continues below advertisement
Aries
If you've been thinking about investing money, taking out a mortgage or seeking a loan, a little research and private advice reassures that you're on the right track. Love? You like a challenge, remember, and looking for solutions always makes you the more keener. Call me to hear when to turn a difficult situation to your advantage.
Taurus
Socially, your calendar is filling up which is great because it means you can put some of your heavier duties aside for now. At work, meetings and projects go like a dream. Planning ahead and pillow talk will draw you and your other half together happily tonight. Call me to hear when you must subtly chase up those leads.
Gemini
Career-wise, the planetary patterns show that you're on top of your game. Have confidence in your bright ideas and don't let anything dampen your enthusiasm today. Treat yourself to a movie tonight, spend the evening with a good friend or plan yourself a holiday. Call me to hear when a lapse in concentration could cause mistakes.
Cancer
Your stars continue to shine the spotlight on domestic and property affairs. That's where your heart lies so don't feel guilty spending extra time and energy on your home. By the end of the day you'll be so impressed with your efforts. Romantically, too, your evening will shine. Call me to hear when you must think things through before making that decision.
Article continues below advertisement
Leo
Don't let previous setbacks blind you to the fact that this is a decisive day for you. The stars link finances and domestic matters in auspicious ways. Relationships? Favorable planetary aspects fill your chart – and your day – with love, partnerships and romantic opportunities. Call me to hear when it is vital to make your needs clear.
Virgo
Play your cards right and this should turn into a really constructive day for you. Arrange meetings, appointments and discussions for a good outcome when inspired decisions are made. Relationships, too, benefit under these favorable stars. You have a lot going for you and your partner right now. Call me to hear when it's best to turn the other cheek.
Libra
There's good news on the financial front today – which makes a change! Put more thought and effort into a creative project because the signs are it could turn into a good little earner. Going out for dinner, taking in a movie, arranged a hot date? You have a romantic evening ahead. Call me to hear when to avoid disagreements at home.
Sagittarius
Although you're run off your feet both at home and at work, you're making great strides. And to prove it, you're receiving some very favorable comments and positive encouragement from people who matter. This evening, you're inspired. Conversations, impressions and ideas come together nicely. Call me to hear when to back off a potentially tricky domestic issue.
Article continues below advertisement
Capricorn
Financial matters linked with your job will go a good deal better than you expect. Consulting with experts or talking to the powers-that-be should get you a positive decision. Socially, your diary is filling to capacity. Meetings and discussions go well. Call me to hear when to take a piece of news with a pinch of salt.
Aquarius
This is a real go-ahead time for you so strike while the iron is hot! You can afford to be bold, even daring, today. What's more, you'll get the support you need from the people who count. So it's a good time to put your ideas across to the boss. Call me to hear when the devil is in the detail.
Pisces
Wouldn't it be nice to leave all the hard work behind and get away from it all? Changes do seem to be afoot so snatching a quick break now would be timely. But to free yourself means doubling up on an already tight schedule. You can do it! Call me to hear when your expectations could be dashed.
To sign up for OK! Magazine's daily horoscopes on your phone, text the first three letters of your star sign (e.g., SAG) to 63422. Subscription is $2.99 per month billed until you unsubscribe plus message & data rates may apply. Send STOP to 63422 to unsubscribe. Text Help to 63422 for help. Premium charges will be added to your wireless phone bill or deducted from your prepaid account. Subscriber certifies they are the account holder or have account holder's permission. For more info, please visit http://www.okmagazine.com/horoscopes/
Participating carriers include Alltel, AT&T, Boost, Cellular One, Nextel, Sprint, T-Mobile, US Cellular, Verizon Wireless, and Virgin.