NEWS
What's in Your Stars?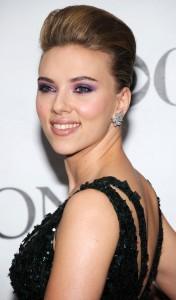 November 22
Today's celeb birthdays
1958: Jamie Lee Curtis (52)
1967: Mark Ruffalo (43)
1984: Scarlett Johansson (26)
Scorpio
Full Moons are always times of endings and new beginnings and last night's lunation, focusing on the love sector of your chart, is affecting your relationship. It means you have reached a turning point and one way or another you can now confidently move on from here. Call me to hear when to avoid a financial complication.
Article continues below advertisement
Aries
The Sun's move into your 'distant affairs' zone ushers in a new phase. Whether you're on the road, studying, dealing with legal or literary matters, it's all systems go from today onwards. Don't wait, make those contacts and connections today. Love and travel are fatefully linked. Call me to hear when you must rethink an unrealistic plan.
Taurus
Yesterday's Full Moon in your sign shows that one chapter of your life is coming to an end and another is just beginning. It's a positive time where money and health are concerned. What you do today will stand you in very good stead for the future. Call me to hear when a social 'do' turns into a damp squib.
Gemini
Responsibilities, duties, full agenda? Given your skills, you can cope beautifully. Monday's never the liveliest day of the week but you will achieve much if you focus. Just don't be too serious – it's not your style! Laughter is the best medicine, they say, and they're right. Call me to hear when to avoid crossing swords with someone in authority.
Cancer
A busy weekend has probably left you a bit weary and not looking forward at all to the start of a new week. But, as the day progresses, you'll pick up strength, speed and, more importantly, optimism. A health matter improves and plans for your home and family progress. Call me to hear when it's imperative you stay alert.
Article continues below advertisement
Leo
Now that potent rays of the Full Moon are ebbing, things are set to change and a mellower tempo sets in. All the effort you put into the weekend has been worth while and you've managed to get ahead. Today's news and developments put you on much firmer ground. Call me to hear when you really shouldn't listen to gossip.
Virgo
After such a helter skelter weekend, you'll be glad to wind down and get back to normal. Concentrating on your work and doing a good job gets you the pat on the back you deserve. Financially, what you purchase today will be long-lasting and good value for money. Call me to hear when to give a wide berth to difficult people at work.
Libra
Love, money, personal issues? What a rollercoaster of feelings you've had to deal with lately. And, given last night's Full Moon, it's so easy for worries to get blown out of proportion. Today's events, however, start a whole new phase. For you, it's time to ring the changes. Call me to hear when you must stay sharp at work.
Sagittarius
You're beginning to see the back of a pesky situation that's been aggravating you for some time. Whatever you do, don't let yourself feel rushed into making a decision today. A certain relationship is put on much firmer ground. Make this a day of new beginnings. Call me to hear when to avoid falling out with your partner.
Article continues below advertisement
Capricorn
You're a hard worker but sometimes it feels as if your efforts go completely unnoticed. Not today, though, Capricorn! But it is time for you put emotions aside and make that important decision and commitment. Health-wise, you could do with giving yourself a break. Call me to hear when a lack of focus could lead to mistakes.
Aquarius
After such a frantic weekend, you can turn your back on domestic matters and look to the farther horizon instead. Reconnect with people and companies faraway, make travel arrangements and progress creative projects. Your success lies in taking on board the bigger picture. Call me to hear when a purchase is a complete waste of money.
Pisces
Put yesterday's busy rumpus aside. You now have much bigger fish to fry! Today, the Sun moves to the topmost area of your chart putting a whole different – and much more favorable - slant on your career. It's important that your keep your profile very high. Call me to hear when to avoid a domestic upset.
To sign up for OK! Magazine's daily horoscopes on your phone, text the first three letters of your star sign (e.g., SAG) to 63422. Subscription is $2.99 per month billed until you unsubscribe plus message & data rates may apply. Send STOP to 63422 to unsubscribe. Text Help to 63422 for help. Premium charges will be added to your wireless phone bill or deducted from your prepaid account. Subscriber certifies they are the account holder or have account holder's permission. For more info, please visit http://www.okmagazine.com/horoscopes/
Participating carriers include Alltel, AT&T, Boost, Cellular One, Nextel, Sprint, T-Mobile, US Cellular, Verizon Wireless, and Virgin.