NEWS
What's in Your Stars?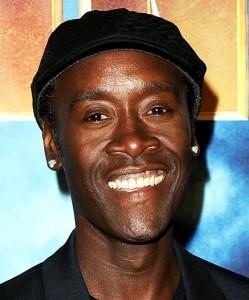 November 29
Today's celeb birthdays
1954: Joel Coen (56)
1955: Howie Mandel (55)
1964: Don Cheadle (46)
1976: Anna Farris (34)
Sagittarius
Don't have any truck whatsoever with people who only want to waste your time today. You have so much to do, so many balls to juggle in the air, so many promises to keep and so many deadlines to meet, you won't even have time to breathe! Call me to hear when to avoid a mistake catching you out at work.
Article continues below advertisement
Aries
There's only so much of you to go round. With people expecting or presuming more than they should, you could end up feeling pulled in all directions. Listen to your own instincts today and take whatever advice you're given with a pinch of salt. Call me to hear when a momentary lack of concentration could cause a problem.
Taurus
Some people have an axe to grind today and the sparks are flying all over the place. You'd be wise to keep your head down and try not to get embroiled in power struggles or they could develop into on-going disputes. A little integrity will go far. Call me to hear when you must resist being bullied into spending money.
Gemini
Someone, or something, will upset your apple-cart today. Things that haven't been said, or that haven't been done, trip you up. Trouble is, you've got too much on your plate and the minute you finish one job, someone drops three more onto your lap. Be tough – say 'no'! Call me to hear when taking other people's opinions on board saves a row.
Cancer
This could turn out to be a somewhat fraught day. However, if you like roller-coaster rides, you might actually enjoy the thrills and spills that lie in store. Whatever happens, don't put yourself under unnecessary pressure. Rome wasn't built in a day, you know - ease up. Call me to hear when it's best to postpone making that decision.
Article continues below advertisement
Leo
Don't go taking any risks today, Leo. There's some pretty formidable cosmic opposition around at the moment that won't let you push past your comfort zone. Being aware of potential minefields means you can dodge around the dangers and play it safe. Call me to hear when to be aware that your financial judgment is poor.
Virgo
Whether you have a concern or a bone to pick with a client, partner, family member or someone you work with, a certain issue is likely to come to a head. On the positive side, it does mean that at last you can clear the air and move on. Call me to hear when you mustn't push your luck over a domestic issue.
Libra
Don't overdo it, Libra! Whether you're driving, exercising or dieting, today's stars warn you to take things slow and easy. Be sensible if you're lifting heavy weights, too, as there's a danger of pulling a muscle or doing yourself a mischief. An early night wouldn't go amiss. Call me to hear when your imagination is playing you tricks.
Scorpio
Shopping, entertainment and dealings with youngsters could prove more trouble than it's worth today. Don't confuse passion with pushiness – by all means keep the revs up, but do control the speed! Finances, too, could be disappointing. Perhaps your expectations are too high. Call me to hear when you must control an extreme emotional reaction.
Article continues below advertisement
Capricorn
Take a deep breath, Capricorn: you could be jumping into the deep end. It's a complex sort of day and dealing with the technicalities and complications that will be thrown at you will certainly stretch you physically and intellectually. Don't push your boundaries too far. Call me to hear when you must stay sharp when traveling.
Aquarius
A friend, work-mate or colleague could ruffle your feathers today. Be very cautious in all money dealings. If someone asks you for a loan, tactfully decline. Safeguard your possessions and don't let your bag or wallet out of your sight, especially if you're traveling or visiting the shops. Call me to hear when you mustn't take what's said at face value.
Pisces
It's not money, but compromise, that smoothes the world around. Remember that today if you feel yourself getting locked onto a collision course with a partner, a parent or a person in a position of authority. Handle situations with sensitivity and tact. Call me to hear when you must check what's involved before you say, yes.
To sign up for OK! Magazine's daily horoscopes on your phone, text the first three letters of your star sign (e.g., SAG) to 63422. Subscription is $2.99 per month billed until you unsubscribe plus message & data rates may apply. Send STOP to 63422 to unsubscribe. Text Help to 63422 for help. Premium charges will be added to your wireless phone bill or deducted from your prepaid account. Subscriber certifies they are the account holder or have account holder's permission. For more info, please visit http://www.okmagazine.com/horoscopes/
Participating carriers include Alltel, AT&T, Boost, Cellular One, Nextel, Sprint, T-Mobile, US Cellular, Verizon Wireless, and Virgin.