NEWS
What's in Your Stars?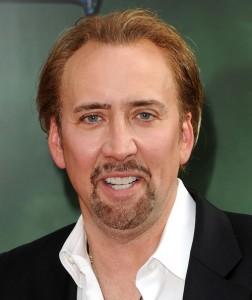 January 7
Today's celeb birthdays
1964: Nicolas Cage (47)
1957: Katie Couric (54)
1971: Jeremy Renner (40)
Capricorn
Don't let that mountain of work and effort defeat you or get you down today. The stars are making your life rather heavy-going right now, but the weekend lies ahead and things will look a good deal rosier then. A new interest feels right. Call me to hear when to avoid a difficult situation at work.
Article continues below advertisement
Aries
As you approach the end of the first week of the new year, you realize it's time to take a new tack. Partners, bosses or superiors may need some persuading at first, but persevere. Broadening your scope whether through training or travel will be a pleasure. Call me to hear when to prevent someone blocking your plans.
Taurus
So much to do before the week comes to a close! But as always with you, it's a case of steady as you go. By early afternoon when you've jumped all the hurdles you'll be ready to start your weekend. Factor in some one-to-one time with the one you love. Call me to hear when a trip will have to be postponed.
Gemini
You're in danger of losing your sparkle today, Gemini, which isn't like you at all. Push gloomy thoughts out of your mind and think about romance instead. With Venus moving into your relationship zone today, your love life is in for a boost. A trip, too, is on the cards. Call me to hear when the price is just too high.
Cancer
If a home, family or domestic arrangement appears to be an impediment to your plans, just think laterally. There are ways around everything and there are people willing to help. Image? It's time to spruce yourself up. A shopping trip later today or over the weekend will please. Call me to hear when to avoid a family dispute.
Article continues below advertisement
Leo
Lady Luck has you in her sights. What happens this afternoon will be liberating and you'll look forward to the weekend when you'll be able to spread your wings. Romance is positively blooming. If you're single, here's your chance to find new love. Call me to hear how to avoid a serious delay.
Virgo
Watch out – a purchase could be more expensive than you'd anticipated especially if you've already overspent the budget anyway. But you'll be pleased if you're buying for the house. Venus moving into your domestic sector today brings warmth and homely happiness for the rest of the month. But call me to hear when a purchase is a waste of money.
Libra
Money, responsibilities, family concerns – you have plenty enough on your plate right now and fitting in time to get your home act together adds on an extra dimension. Take heart and don't let things get on top of you. A nice evening and pleasant weekend lie ahead. Call me to hear when to head off a clash of interests.
Scorpio
Doom and gloom? Some of the anxieties you've been struggling with should start to evaporate this afternoon. A chat with a friend, a neighbor or female relative will put things into perspective. Home is a nice prospect and a special purchase will perk you up no end. Call me to hear when to look for the hidden agenda.
Article continues below advertisement
Aquarius
It's hard to focus and even harder to stay one step ahead today. Matters improve mightily by late afternoon just in time to lift the gloom. Socially, your life is about to open out and invitations pour in. Don't write that trip off just yet!
But do call me to hear when a journey is a pain.
Pisces
Try not to get sucked into other people's negative mood states today, Pisces. You have other fish to fry. Venus, the Miss Congeniality of the Zodiac, is paying your career zone a visit and will raise your profile and popularity at work. You have everything to play for now. Call me to hear when a second opinion is a must.
To sign up for OK! Magazine's daily horoscopes on your phone, text the first three letters of your star sign (e.g., SAG) to 63422. Subscription is $2.99 per month billed until you unsubscribe plus message & data rates may apply. Send STOP to 63422 to unsubscribe. Text Help to 63422 for help. Premium charges will be added to your wireless phone bill or deducted from your prepaid account. Subscriber certifies they are the account holder or have account holder's permission. For more info, please visit http://www.okmagazine.com/horoscopes/
Participating carriers include Alltel, AT&T, Boost, Cellular One, Nextel, Sprint, T-Mobile, US Cellular, Verizon Wireless, and Virgin.