NEWS
What's in Your Stars?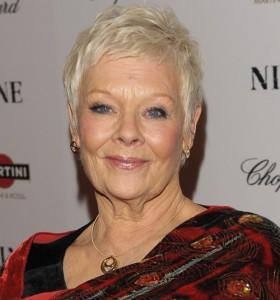 December 9
Today's celeb birthdays
1934: Judi Dench (76)
1953: John Malkovich (57)
1962: Felicity Huffman (48)
1970: Kara DioGuardi (40)
1978: Jesse Metcalfe (32)
Aries
Tread gently today, Aries. It won't do to be too intense. Are people giving you the right advice? Does a deal sound too good to be true? Are you buying a pig in a poke? Chances are the answer is yes to all three questions. Call me to hear when to make that firm commitment.
Article continues below advertisement
Taurus
You're determined to make good progress at work but you may find that either your feelings, or those of a colleague, keep getting in the way. Planning a trip? Finalize bookings and get confirmation today. Tomorrow brings hitches, hassles and delays. So, seize the day! Call me to hear when putting your work forward impresses the boss.
Gemini
Work? Taking on more than you're doing already is enticing. But it probably isn't wise. Play safe today, Gemini, and don't over commit yourself. Traveling? Leave plenty of time for that journey, especially if you're setting off late this afternoon. Call me to hear when Fate works in your favor!
Cancer
Buying Christmas presents, sorting taxes, paying bills? It could be a little overwhelming. Take things a step at a time and don't go over the top. There's a tendency today to take matters for granted and then to be left disappointed. Love? Tomorrow in an easier day. Call me to hear when to make that investment in your home.
Leo
You're one of the biggest-hearted people in the Zodiac, Leo. But sometimes your generosity can be a little too much. Don't take it all on your shoulders – you are over-worked as it is. Rope in other people to help. It's time you were paid back in kind. Call me to hear when to make that important approach.
Article continues below advertisement
Virgo
Getting your facts right today is essential! Whether you're dealing with work, health, meetings or interviews people will see through your glib talk and your throwaway lines just won't work in your favor. Be mindful of social graces and keep your body language in check. Call me to hear when to shop for best value.
Libra
Normally you're so discerning. But perhaps you're out to spoil yourself. Or maybe it's simply that your heart just isn't in what you're doing. The fact is that not all that glistens is gold and not all you're tempted to buy today will be of good value. Beware. Call me to hear when a project hits the mark.
Scorpio
You have one more day to finalize plans, sign documents and get those cards off in the post before things start to slow right down. A partner may be extra needy or demanding this evening. Perhaps it's time to make your feelings known. Call me to hear when your instincts are spot-on.
Sagittarius
There's confusion in the air today – probably because there's so much you have to do and you're running out of time. If you haven't sorted your finances yet, the stars advise that it's high time you did. Let today's disappointment turn into tomorrow's triumph. Call me to hear when a friendship is sealed.
Article continues below advertisement
Capricorn
It's not like you to behave irresponsibly, especially not with money. So don't go making over-indulgent purchases or extravagant gestures today. Your mind is working overtime and coming up with new plans and schemes. But you're restless and eager to move on. Call me to hear when your judgment is right on the money.
Aquarius
Though you may feel torn between your different responsibilities, you really must give greater priority to your own needs and goals today. But that doesn't mean you can afford to skip the essentials at work. Stick to the rules if you need to gather support and good will. Call me to hear when an outing fulfils all your expectations.
Pisces
It's worth taking a step back today, Pisces, where people and problems are concerned. Chances are you're feeling tired, out of the loop or just need some time to yourself. It won't hurt your reputation or progress. In fact, you'll probably get a good deal more done. Call me to hear when a financial plan comes together.
To sign up for OK! Magazine's daily horoscopes on your phone, text the first three letters of your star sign (e.g., SAG) to 63422. Subscription is $2.99 per month billed until you unsubscribe plus message & data rates may apply. Send STOP to 63422 to unsubscribe. Text Help to 63422 for help. Premium charges will be added to your wireless phone bill or deducted from your prepaid account. Subscriber certifies they are the account holder or have account holder's permission. For more info, please visit http://www.okmagazine.com/horoscopes/
Participating carriers include Alltel, AT&T, Boost, Cellular One, Nextel, Sprint, T-Mobile, US Cellular, Verizon Wireless, and Virgin.