NEWS
What's in Your Stars?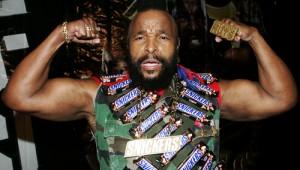 May 21
Today's celeb birthdays
1952: Mr. T (58)
1953: Al Franken (59)
1974: Fairuza Balk (36)
Taurus
After a great deal of toil both at work and at home, it's good to report that your finances are set to prosper, Taurus. You'll see over the next few weeks that your determination to improve your situation pays off. Looks like you can afford that holiday now. Call me to hear when to take what a friend says with a pinch of salt.
Article continues below advertisement
Aries
Deal with business matters as soon as you can this morning. Also, either visit or make appointments to see consultants, specialists or officials. As they say, it's good to talk. Life improves as the day progresses and by this evening, your spirits are high. Call me to hear when you can't afford to take a plan for granted.
Gemini
The last month has been a period of transition, Gemini. But as the Sun moves into your sign today, it will trigger a whole new phase in your life. You'll soon be feeling much more vital, practical and alive. Now, you can really get down to business! Call me to hear when it's auspicious to bring that plan together.
Cancer
If people invite you out, chances are you'll be torn. Part of you wants to go, but the other part feels tired and sluggish. You know what they say, Cancer: if you don't go, you'll never know. And Fate has an interesting meeting lined up just for you! Call me to hear when to keep a closer eye on your money and possessions.
Leo
Your career and public life have been pretty full-on recently. Now, you can step out of the spotlight and let others get on with things instead. If you're in a quandary about finances or property matters, you'll get excellent advice if you go straight to the top today. Call me to hear when going that extra mile makes all the difference.
Article continues below advertisement
Virgo
Step center-stage, Virgo. Whether you're giving a presentation, going for an interview or simply talking through your ideas at high level, the spotlight is on you. Don't be fazed. Today's star line-up is giving you the confidence - and the authority - you need. Call me to hear when to avoid throwing good money after bad.
Libra
You have to speculate to accumulate. Well, there are lots of ways to speculate and many different things to accumulate. Today, for example, spending money on travel, skills training or PR will help to move you a few more rungs up the ladder. It's a good investment. Call me to hear when to avoid excess damaging your health.
Scorpio
As a new period of good fortune begins, there's a great deal you can practically do for yourself to improve your lot. Organization is a key factor in all this. Talk to other professionals, read self-help books, plan ahead. Strategy is everything – start today. Call me to hear when a stitch in time really does save nine!
Sagittarius
Hurrah! The Sun moves into the relationship sector of your chart today and warms the cockles of your heart. From now, and over the next few weeks, your relationships can't help but take on a new romantic glow. Work and business partnerships prosper, too. Call me to hear how to avoid a clash between duty and desire.
Article continues below advertisement
Capricorn
The atmosphere at work is getting so much brighter. Your colleagues seem happier and the job you're doing is so much more congenial. People seem to be going out of their way to help you and everything is sunshiny mellow. What's happened? Could it be love? Call me to hear when a trip is fraught with obstacles.
Aquarius
For several weeks you've been squeezed on all sides. Family, visitors, children, housework and your regular job have sent you from pillar to post. Now, it's time for you to have some fun. Let your hair down and enjoy some of the things you like doing best. Call me to hear when to avoid communication wires getting crossed.
Pisces
Domestic life is improving now that the sun's shining. It's nice to feel your home is a welcoming nest and the evenings still light and long enough to enjoy some outdoor leisure after work. Whether it's a heart-to-heart or letters in the post, today's news is fascinating. Call me to hear when to avoid crossing swords with someone close.
To sign up for OK! Magazine's daily horoscopes on your phone, text the first three letters of your star sign (e.g., SAG) to 63422. Subscription is $2.99 per month billed until you unsubscribe plus message & data rates may apply. Send STOP to 63422 to unsubscribe. Text Help to 63422 for help. Premium charges will be added to your wireless phone bill or deducted from your prepaid account. Subscriber certifies they are the account holder or have account holder's permission. For more info, please visit http://www.okmagazine.com/horoscopes/
Participating carriers include Alltel, AT&T, Boost, Cellular One, Nextel, Sprint, T-Mobile, US Cellular, Verizon Wireless, and Virgin.