NEWS
What's in Your Stars?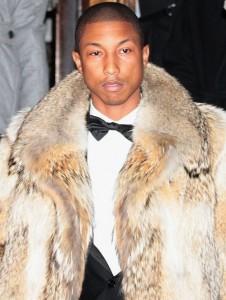 April 5
Today's celeb birthdays
1926: Roger Corman (85)
1961: Andrea Arnold (50)
1973: Pharrell Williams (38)
Aries
Whatever else is going on in your life, some time spent on quiet reflection may be a useful exercise. This may also give your subconscious an opportunity to come up with new ideas and plans for improving your income especially now that top-level changes are coming into play. Love is tender tonight. Call me to hear when you can't trust what you're told.
Article continues below advertisement
Taurus
Your long-term goals are coming under cosmic attention, Taurus. Chances are that what you thought you wanted is losing its luster as new ambitions now seem more desirable. If you need, people are on hand to endorse your ideas. Spending the evening with a friend is heart-warming. Call me to hear when a purchase won't be worth the money.
Gemini
Background work, research or digging for facts makes good progress today, Gemini. At work, a deeper understanding of a certain person or situation is growing and leads to important discussions. Your sensitivity and tolerance are noted by those who matter. It all stands you in good stead. Call me to hear when a promise comes unstuck.
Cancer
Arrange trips, travel or training today, Cancer. Mix business with pleasure, progress joint ventures and pursue distant affairs. Whether it involves a better job, position or status, it's up to you to define your needs and to work your way towards that far horizon from now on. Call me to hear when your misgivings are unfounded.
Leo
This is probably the best day in the week to talk through new plans and ideas with the powers that be. Show your strengths and potential but be subtle. It's worth having facts and figures at your fingertips to impress those who matter. It's also a good day to talk money. Call me to hear when a social plan fizzles to nothing.
Article continues below advertisement
Virgo
It's a fortunate day in many respects, Virgo, and one in which your resourcefulness will take you a step closer to a certain goal. Given your ability for deep reflection, getting your head around a legal or literary matter should be a cinch. And then getting others to agree will be a piece of cake. Call me to hear when to be on the lookout for mistakes at work.
Libra
Your determination to plumb the depths and get to the bottom of a certain matter will get the job done beautifully today. This applies equally to a physical task as well as any matters concerning money, health or welfare. At home, works to upgrade the plumbing, bathroom or en-suite go well. Call me to hear when you must double-check travel times.
Scorpio
Amidst all the changes that are taking place in and around your life at the moment, it's good to know that some pleasing developments are on their way. Venus brings a loving atmosphere, and partnerships - both personal and professional – are harmonious. Make your commitment today. Call me to hear when to watch out for a financial glitch.
Sagittarius
Bills, invoices, budgets, bank statements – spend some time getting your affairs in order today. Spending money on your house, home and family gives you pleasure. Perhaps you'll chance upon the very item you've hankered after. Being with those you love is so comfortable tonight. Call me to hear when you shouldn't sign that contract.
Article continues below advertisement
Capricorn
Your hopes are raised today, Capricorn, and about time, too. Some good news, and a change of attitude and outlook, makes all the difference. You're readiness to pour energy and passion into a certain person or pursuit will be rewarded. It's good to sense your luck is on the turn. Call me to hear when you must double-check the details.
Aquarius
Sometimes, Aquarius, because you're so cerebral, you forget to stop a moment and enjoy the sheer pleasure of physical delight. A touch, a hug, a warm nest, a sumptuous home. Today's stars offer you a sensual insight and a chance indulgence. Invest a little and spoil yourself today. Call me to hear when you can't afford to trust your luck.
Pisces
A conversation with a companion, colleague, sibling or friend goes deep and brings new insights. It's stimulating you to think differently, change direction and take a new look at yourself and your abilities. You're a lot more resourceful than you think. There's no room for doubt now, Pisces, if you want to succeed! Call me to hear when a domestic arrangement falls apart.
To sign up for OK! Magazine's daily horoscopes on your phone, text the first three letters of your star sign (e.g., SAG) to 63422. Subscription is $2.99 per month billed until you unsubscribe plus message & data rates may apply. Send STOP to 63422 to unsubscribe. Text Help to 63422 for help. Premium charges will be added to your wireless phone bill or deducted from your prepaid account. Subscriber certifies they are the account holder or have account holder's permission. For more info, please visit http://www.okmagazine.com/horoscopes/
Participating carriers include Alltel, AT&T, Boost, Cellular One, Nextel, Sprint, T-Mobile, US Cellular, Verizon Wireless, and Virgin.