NEWS
What's in Your Stars?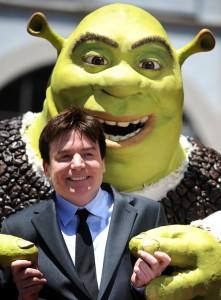 May 25
Today's celeb birthdays
1963: Mike Myers (47)
1969: Anne Heche (41)
1969: Stacy London (41)
1975: Lauryn Hill (35)
Gemini
At work, you may be taking a lower-profile approach, perhaps because you're developing important projects in the background. If so, ideas that come to you now will be quite inspired. Home and property? Money spent on revamping the kitchen or bathroom will be excellent value. Call me to hear when you must take extra care of your health.
Article continues below advertisement
Aries
Sorting out your finances can be a bore, but it has to be done. As a matter of fact, tackling money and business today should be smoother going than usual – and probably the best day in the week for useful response and helpful service. Carpe diem! Call me to hear when travel could prove irritating.
Taurus
An enterprising spirit at work galvanizes you into action. It's all good for your future prospects as the efforts you're putting in now will reflect positively on your bank balance. Personally, you're in fine form, oozing charisma. Put that to good use with all the people you meet today! Call me to hear when manners make all the difference.
Cancer
Certain aspects of your life have been dull but today you sense that life is beginning to open out. Opportunities to explore new pastures are now within sight. If romance has been thin on the ground, the prospect of a new liaison marks a major turning point. Call me to hear when to curb that impulsive urge to spend.
Leo
Colleagues and partners are wonderfully supportive today. Your image, health and wardrobe could do with a revamp, Leo. Changes to your daily routine, fitness regime and lifestyle can do you a power of good. And if you want to boost your confidence, think style. Call me to hear when officials simply aren't listening.
Article continues below advertisement
Virgo
There's a lot of affection and good will around you today, Virgo. Venus, planet of love, luck and looks, is inspiring you with new ideas and drawing helpful people your way. Contacts – catching up with colleagues and friends - are deeply rewarding and allegiances are strengthened. Call me to hear when giving clear signals is a must.
Libra
If you're involved in a creative project, today's planetary trends are in your favor and you'll be delighted with your output and imaginative ideas. Finances are healthy as cash flow gathers a pleasing new momentum. What you spend on your home today is transformative. Call me to hear when you must show extra sensitivity to a loved one.
Scorpio
Today is all about meetings, get-togethers and working with other people. All group activities keep you on the go. Deep discussions link schools, family and academic affairs. Legal matters, advertising and travel arrangements, too, keep you busy. It's a full but very satisfying day. Call me to hear when you mustn't take your partner for granted.
Sagittarius
There are cosmic developments on the horizon that will soon make you see things differently and lead to a change of mind and heart. Creative projects, romance and fun times beckon. But it's the discussions you're having behind the scenes that carry weight today. Call me to hear when best to make your pitch.
Article continues below advertisement
Capricorn
If you've been looking for those glimmers of light, Capricorn, you may be pleasantly surprised today. An invitation looks promising, especially for affairs of the heart. A casual meeting, or a deep heart-to-heart, could lead to something very important in your future life. Call me to hear when chatting wastes precious time.
Aquarius
While cosmic energies are so favorable, it's an ideal day to start thinking about a fresh project or to apply for a new job - especially so if your current employment isn't giving you the creative satisfaction you need. Fashion? Venus inspires you to seek a new look. Call me to hear when a lack of attention could cause trouble at work.
Pisces
This is a day for coming up with bright ideas and for making creative plans. Dealings with faraway places, booking trips, arranging outings will give you much pleasure. And with Venus bringing you dreamy romance to lighten your heart, love has to be sweet today, too. Call me to hear when carelessness could lead to an injury.
To sign up for OK! Magazine's daily horoscopes on your phone, text the first three letters of your star sign (e.g., SAG) to 63422. Subscription is $2.99 per month billed until you unsubscribe plus message & data rates may apply. Send STOP to 63422 to unsubscribe. Text Help to 63422 for help. Premium charges will be added to your wireless phone bill or deducted from your prepaid account. Subscriber certifies they are the account holder or have account holder's permission. For more info, please visit http://www.okmagazine.com/horoscopes/
Participating carriers include Alltel, AT&T, Boost, Cellular One, Nextel, Sprint, T-Mobile, US Cellular, Verizon Wireless, and Virgin.