NEWS
What's in Your Stars?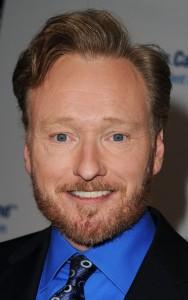 April 18
Today's celeb birthdays
1947: James Woods (64)
1963: Conan O'Brien (48)
1976: Melissa Joan Hart (35)
1984: America Ferrera (27)
Aries
What you need to bear in mind today is that Full Moon tensions are rippling the calm surface of your life. So if people behave in uncharacteristic ways, if your siblings pick a fight with you, or if your partner gets on your nerves, you know why. Call me to hear when to avoid locking horns with authority.
Article continues below advertisement
Taurus
A little of what you fancy does you good, they say, but don't push your luck. With a Full Moon in your health sign today, it's important you watch out for stresses and strains. Don't overdo anything - make 'moderation' your watchword in everything you do today! Call me to hear when to watch out for aggravation when traveling.
Gemini
It's not like you to feel shy or tongue-tied, but then the Full Moon does have some strange effects on us. Mars, however, confirms that your instincts are honed and that listening to the right people and right advice will now put you straight. Call me to hear how to avoid a financial embarrassment.
Cancer
Life is so much busier than usual and people are hyperactive and letting off steam all over the place. Despite all, the stars are also bringing you some good fortune. A stroke of luck should cheer you. In some ways, this could turn into a destiny date, too! Call me to hear when to side-step a disagreement with someone close.
Leo
The Full Moon often plays funny tricks on us and pulls on our heart-strings. Today, it will goad your sense of adventure something rotten and make you really restless. But beware: things won't be that straightforward. This evening, someone's change of plans comes as good news. Call me to hear when to prevent stressing your health.
Article continues below advertisement
Virgo
Today's Full Moon is turning money into a big issue. Either you've already gone way over budget or you'll be incorrigibly impulsive and hand over your card at the least whim. Be sensible, please! A conversation with someone who matters gets you thinking along different lines. Call me to hear when to avoid being disappointed in love and money.
Libra
It's a challenging day on several levels and especially on your interactions with others. Today's Full Moon warns you to take things a little easier. People may be frenetic around you and expecting you to pull out all the stops. But you must put your own needs first. Call me to hear when to prevent a partnership squabble.
Scorpio
Feeling unsettled? The Full Moon is ruffling your emotions today. If you find it difficult to show your feelings toward someone you love or trust, or if you catch yourself saying 'no' when you mean really 'yes', you'll know where to lay the blame. Call me to hear when to watch you don't over strain yourself.
Sagittarius
It's a mad day! Much as you might like to maintain a higher profile, you'll probably get more mileage from working quietly behind the scenes. Let others resolve their difficulties and find ways to work within their limits. You meanwhile have more important fish to fry. Call me to hear when to prepare for a big financial outlay.
Article continues below advertisement
Capricorn
It's all happening around you, both at home and at work! Are you decorating from top to bottom, are you thinking of buying and selling, or are you just having the family around for the Easter break? There's a veritable vortex of activity going on. Call me to hear when to avoid family or domestic hassle.
Aquarius
Today's Full Moon is whipping up a storm of activity, and tensions surround travel plans and relationships. With so much going on, it's quite hard to fit everything in. But if you've been wanting evidence that your reputation and prestige are on the rise, you'll get it today. Call me to hear when best to play it cool.
Pisces
It's time to confront some of your concerns as the Full Moon brings hidden matters to light. It's not the easiest of days and you will be challenged on several counts – notably regarding money. News or developments from afar strike a resonance tonight. Call me to hear when you must protect your sense of self-worth.
To sign up for OK! Magazine's daily horoscopes on your phone, text the first three letters of your star sign (e.g., SAG) to 63422. Subscription is $2.99 per month billed until you unsubscribe plus message & data rates may apply. Send STOP to 63422 to unsubscribe. Text Help to 63422 for help. Premium charges will be added to your wireless phone bill or deducted from your prepaid account. Subscriber certifies they are the account holder or have account holder's permission. For more info, please visit http://www.okmagazine.com/horoscopes/
Participating carriers include Alltel, AT&T, Boost, Cellular One, Nextel, Sprint, T-Mobile, US Cellular, Verizon Wireless, and Virgin.