NEWS
What's in Your Stars?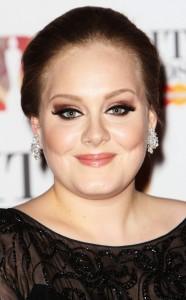 May 5
Today's celeb birthdays
1959: Brian Williams (52)
1988: Adele (23)
1988: Brooke Hogan (23)
1989: Chris Brown (22)
Taurus
If finances have been iffy, overwhelming or just plain impenetrable over the last couple of weeks, you should get a good handle on your affairs today. Getting yourself organized and back into your normal routine is reassuring. It's remarkable how much you can do once you get stuck in. Call me to hear when it's important you steer your own path.
Article continues below advertisement
Aries
At last its all systems go, Aries. After a slow and sometimes frustrating few days, you're on solid ground again and making up for lost time. If you're looking for backing, you'll find strong support. Make contacts and sign long-term contracts now. Call me to hear when to cool your frustration at home.
Gemini
You seem to be balancing your social life with your need for privacy very well today. It's giving you space and time to catch up with what really matters. Planning a party, holiday, get-together? You can make excellent headway with your arrangements now. Call me to hear when you must put your security first.
Cancer
There's plenty going on in the work scene today, Cancer, but it's only by tucking yourself away and working under your own steam that you'll get anything constructive done. Decisions, decisions? Standing back gives you a clearer view. A chat behind the scenes confirms your way forward. Call me to hear when to ask questions before you make that decision.
Leo
Deal with correspondence, make calls, write letters, work through your in-box. It's pleasing how much you can get done when you focus. People are impressed with your wisdom and hanging onto your every word. Catch up with an old friend later today. Call me to hear when your plans may be scuppered.
Article continues below advertisement
Virgo
Talks and/or meetings with bosses, officials and people in authority come under favorable auspices today. Be confident – others will recognize your skills and acknowledge that you know what you're talking about. A financial matter makes good progress and you get the seal of approval. Call me to hear when you must keep a grip on your spending.
Libra
Slow but sure gets you where you need to go today, Libra. The stars are shining on travel. Planning a holiday? Make that decision now. You can also make your bookings and arrangements with confidence. Your knowledge and expertise are sound and sought after today. Call me to hear when you must put your own emotions first.
Scorpio
Uncertainty turns to sureness today, Scorpio, as the fog lifts and you're in a good position to see the lie of the land. It's a favorable day for making progress where money and business affairs are involved. Investing? Think long-term gains. Quiet advice brings confidence. Call me to hear when it's essential not to go over the top.
Sagittarius
It's a good day for moving forward with a plan or long-term objective. Deal with official paperwork and matters, progress joint projects and agree terms. People are pulling together and you can rely on their support. You're on solid ground today. Call me to hear when you must keep an eye on your finances.
Article continues below advertisement
Capricorn
This is your kind of day, Capricorn – organized, practical, industrious and controlled. You're in a business frame of mind and ready to plough through your schedule. Whether you're dealing with officials, bosses or senior members of your family, your responsible attitude wins you praise. Call me to hear when a family matter will interfere with your plans.
Aquarius
A sense of contentment percolates through your day as things fall neatly into place. Creative projects can be quietly progressed, children are responsive and a business matter is satisfactorily concluded. Travel? Finalize bookings now. Get together with friends this evening. Call me to hear when to factor in unexpected delays.
Pisces
Here's your chance to make that investment in your home, to purchase domestic items or to buy for the family. What you do today will have a lasting effect, and what you buy will give you good value. Don't be afraid to haggle – you could end up with a great bargain if you do. But call me to hear when you're in danger of buying a pig in a poke.
To sign up for OK! Magazine's daily horoscopes on your phone, text the first three letters of your star sign (e.g., SAG) to 63422. Subscription is $2.99 per month billed until you unsubscribe plus message & data rates may apply. Send STOP to 63422 to unsubscribe. Text Help to 63422 for help. Premium charges will be added to your wireless phone bill or deducted from your prepaid account. Subscriber certifies they are the account holder or have account holder's permission. For more info, please visit http://www.okmagazine.com/horoscopes/
Participating carriers include Alltel, AT&T, Boost, Cellular One, Nextel, Sprint, T-Mobile, US Cellular, Verizon Wireless, and Virgin.