NEWS
What's in Your Stars?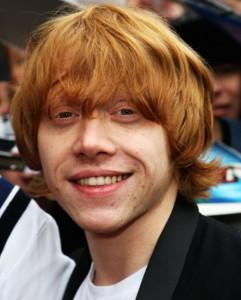 August 24
Today's celeb birthdays
1988: Rupert Grint (22)
1981: Chad Michael Murray (29)
1973: Dave Chappelle (37)
Leo
Whatever twists and turns the day confronts you with, you can rest assured that you'll be on much surer territory by nightfall. Save yourself time and hassle by not spending or making anyone promises you may later regret. Start a new project, routine or diet now. Call me to hear when a little compromise keeps the peace.
Article continues below advertisement
Aries
Don't waste time on hypotheticals. But on the other hand as that song goes: unless you have a dream how you gonna make a dream come true? It's all a question of balance, today, Aries, and working within a known framework. You're on stronger ground later tonight. Call me to hear when controlling your temper gives you the upper hand.
Taurus
The progress you're making at work is now quite apparent and a hint today that you're opening new doors to future opportunities will be especially pleasing. But beware promises made before mid-afternoon no matter how well-meant. What transpires this evening is meaningful and heart-felt. Call me to hear when too much of a good thing really is too much!
Gemini
Deep talks, discussions and transformations concerning work, emotions and health are now taking place. Much, however, is being done under wraps. Carry on with your fact-finding and research, but be aware that whatever you're promised before tea-time may just be pie in the sky. Call me to hear when you mustn't slump into negative thinking.
Cancer
If relationships have been blowing hot and cold you may find that a trip, heart-to-heart chat or long-distance call could improve things unexpectedly well today. It applies not only to your one-to-one, but to other work-related interactions, too. Driving? Watch that blind spot today! Call me to hear when you must strictly follow the rules.
Article continues below advertisement
Virgo
Planets in the workaday sector of your chart are gathering their energies and producing a maelstrom of activity. Time now to put the finishing touches to an on-going job. But, Virgo, in your rush to finish, you must check the details and be sure of your facts. Call me to hear when a fool and his money are soon parted!
Libra
Planning a night out, a social get-together or a romantic date, Libra? Get your booking in first thing this morning or else leave well alone until this evening. Equipment on the blink? Don't throw the baby out with the bathwater. A repair this evening might just do the trick. Call me to hear when a little flexibility avoids a clash.
Scorpio
Inspired ideas, Scorpio? But if they involve the home or family, make sure you get those plans off the ground and agreed first thing. By mid-morning you're unlikely to get the response you're after. If things go pear-shaped, you'll be more successful later in the day. Call me to hear when you must avoid falling into the trap of feeling sorry for yourself.
Sagittarius
Take a tip from the stars: don't sign anything major until after 3.15 pm. Of course, you can't ditch your responsibilities altogether but there's no reason why you can't postpone matters until tomorrow when the auspices are more in your favor. Take time to review matters tonight. Call me to hear when you shouldn't let anyone pull your strings.
Article continues below advertisement
Capricorn
Doing your accounts, Capricorn? It's not like you to bury your head in the sand when it comes to money. Or to find yourself staring vacantly out of the window. Stay grounded. But to avoid errors or disappointment, leave that decision until late afternoon. Call me to hear when applying a little charm will work wonders.
Aquarius
Same old, same old? Do something completely different today, Aquarius. Find a way to vary your routine and jolt yourself out of a rut. One thing you can say about today is that energy blocks are being freed and health issues improve as a result. Call me to hear when to pause before you reply.
Pisces
It may take you some time to get up to speed today, Pisces. Chances are you're feeling weighed down, more tender or more vulnerable than usual. Need to wriggle out of a commitment? Wait until after 9.30 to give your apologies. That way you'll meet with little resistance. Call me to hear when to give officials a wide berth.
To sign up for OK! Magazine's daily horoscopes on your phone, text the first three letters of your star sign (e.g., SAG) to 63422. Subscription is $2.99 per month billed until you unsubscribe plus message & data rates may apply. Send STOP to 63422 to unsubscribe. Text Help to 63422 for help. Premium charges will be added to your wireless phone bill or deducted from your prepaid account. Subscriber certifies they are the account holder or have account holder's permission. For more info, please visit http://www.okmagazine.com/horoscopes/
Participating carriers include Alltel, AT&T, Boost, Cellular One, Nextel, Sprint, T-Mobile, US Cellular, Verizon Wireless, and Virgin.