NEWS
What's in Your Stars?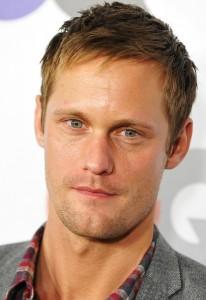 August 25
Today's celeb birthdays
1958: Tim Burton (52)
1968: Rachel Ray (42)
1976: Alexander Skarsgård (34)
1981: Rachel Bilson (29)
1987: Blake Lively (23)
Aries
You've been under a lot of hidden frustration for some time and, given yesterday's Full Moon, you're probably now awash with feelings. Letting it all out will be precisely the catalyst you need to trigger the changes you've been looking for. Aries, the only way now is up! Call me to hear when controlling your temper gives you the upper hand.
Article continues below advertisement
Taurus
You're in two minds about so many things. Perhaps it's because you've been the power behind the throne for far too long. You've been incubating ideas, planning projects and dreaming big dreams. Now you see a chink and it's a way through to fulfilling that potential. Call me to hear when too much of a good thing really is too much!
Gemini
Keep pushing forward. Things have reached a critical point and there's no turning back. Yesterday's Full Moon shows that professional matters, family affairs and creative projects are due for a shake-up. But don't expect it all to happen suddenly. Events will unfold slowly over the next few weeks. Call me to hear when you mustn't slump into negative thinking.
Cancer
Last night's Full Moon has brought you breath of vision and bright ideas. Now you have something positive to strive for. A trip may be hard to organize, or may have to be postponed until later. Rethink your options: difficult discussions yield solutions. Call me to hear when you must strictly follow the rules.
Leo
Lots of people find the days around the Full Moon an unsettling time. However, no matter how much pressure you're under, rest assured that once the dust has settled – as it will do through the day today – what you're left with is a new awareness and new hope. Call me to hear when a little compromise keeps the peace.
Article continues below advertisement
Virgo
Mercury, planet of commerce and communication now in your sign, is encouraging you to mend, repair and put things right. Whether it involves physically making good, or emotionally making amends, here's your green light. Once you've taken this step, it's all steam ahead. Call me to hear when a fool and his money are soon parted!
Libra
Some days are highly productive and others prove challenging. Today is a mixture of both. Health? It's a known fact that suppressing you anger, emotions or tensions will only undermine your well being. If you feel you have something to say, speak up and have things out. Then you can relax. Call me to hear when a little flexibility avoids a clash.
Scorpio
In some ways, it may well be an indulgent kind of day. But the current star pattern does warn against getting yourself locked into a power struggle with either colleagues or offspring. If something isn't working, it may be a question of back to the drawing board, today. Call me to hear when you must avoid falling into the trap of feeling sorry for yourself.
Sagittarius
You've been going like the clappers for some time and yesterday's Full Moon marked a final deadline. Can you say you've met your target? In truth, there's still a lot of pruning, tidying and backtracking to be done. But slowly, slowly, you're getting there. Call me to hear when you shouldn't let anyone pull your strings.
Article continues below advertisement
Capricorn
You have plans and decisions to make. Although you need to be aware that people have a certain vested interest in what they tell you, talking to someone close early morning, and to people faraway later in the day, helps you come to the right conclusions. Call me to hear when applying a little charm will work wonders.
Aquarius
It's crunch time for money and you know you must take your finances in hand. If it means dipping into your reserves, so be it. But promise yourself that you'll redouble your efforts to work on your budget and refloat just as soon as you can. Call me to hear when to pause before you reply.
Pisces
Does it feel as if you've reached a crossroad? If so it's because you've picked up the potent vibes of yesterday's Full Moon which augers the ending of one phase in your life and the beginning of a whole new cycle. You decide where you go from here. Call me to hear when to give officials a wide berth.
To sign up for OK! Magazine's daily horoscopes on your phone, text the first three letters of your star sign (e.g., SAG) to 63422. Subscription is $2.99 per month billed until you unsubscribe plus message & data rates may apply. Send STOP to 63422 to unsubscribe. Text Help to 63422 for help. Premium charges will be added to your wireless phone bill or deducted from your prepaid account. Subscriber certifies they are the account holder or have account holder's permission. For more info, please visit http://www.okmagazine.com/horoscopes/
Participating carriers include Alltel, AT&T, Boost, Cellular One, Nextel, Sprint, T-Mobile, US Cellular, Verizon Wireless, and Virgin.