NEWS
What's in Your Stars?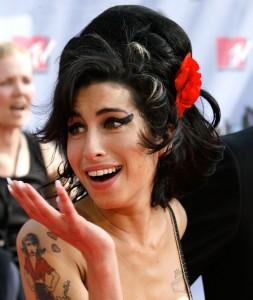 September 14
Today's celeb birthdays
1973: Nas (37)
1983: Amy Winehouse (27)
Virgo
Fresh out of inspiration, Virgo? Falling asleep at your desk? Or perhaps you had started to think that your ideas had lost their edge. You're in for a big surprise! Mars, planet of action, is about to stir up your world and your thinking in a bright new way. Call me to hear when you'd be wise not to dig in your heels.
Article continues below advertisement
Fate seems to be dealing you a special hand. If your love life has been turbulent lately, you'll now move into a calmer phase. A legal chapter could be ending and an important matter gathers new momentum. A burst of mental energy triggers a wonderful idea. Call me to hear how to avoid a big disappointment.
Taurus
Dare to break the mold, Taurus! Say 'yes' to whatever new experiences come your way from now and over the next seven weeks. Seek out people who share a common interest with you. Mars pumps up the action and love blossoms just when you're having fun! Call me to hear when money and friends don't mix.
Gemini
Are you ready to take charge, Gemini? There will be plenty of opportunity for you to shine from now on when your expertise is called upon at work. Now your thoughts turn to home and family. Grab that broom and make a clean sweep! Call me to hear when you mustn't take a colleague for granted.
Cancer
Launch yourself into a new creative project today, Cancer. Looking for romance? Your heart could beat just a little bit faster as Mars gives you extra magnetic power to attract the attention of someone special. If you're already hitched, here's your chance to let go those inhibitions! But call me to hear when you need to rein in your enthusiasm.
Article continues below advertisement
Leo
Fed up of the same old grind, the familiar surroundings, the faded décor, the clutter under your feet? Here's your chance to make some big changes. Today, rearranging the furniture helps to take your mind off work and gives you time to think. Call me to hear when to avoid finances becoming a sticking point.
Libra
With impulsive Mars moving into your money zone you may be tempted to splash out and spend big. Or you could start to attract money like a magnet! It all depends how you deal the cards. One way or another your finances come under the spotlight now. Call me to hear when you must avoid excess.
Scorpio
Not busy enough? You soon will be! But before you throw yourself into action, take a moment to plan your next move. Dynamic Mars, entering your sign, is now spurring you to action. Finish what you're doing and get ready to blaze a new – and more exciting – trail. Call me to hear when to avoid a family fall-out.
Sagittarius
Events bring unfinished business to the fore. From today, a temporary retreat from the hurly-burley could be just what you need. Chances are, though, you'll probably end up working harder than ever behind the scenes. You're busy, but it doesn't mean that love has to take second place. Call me to hear when passion stirs your veins!
Article continues below advertisement
Capricorn
You're in your element as the stars create a stimulating atmosphere around you. Socially, your calendar is overflowing. Could be that a new face will soon brighten the scene and bring a frisson of excitement into your life. A change of routine makes a welcome break. Call me to hear when you must control your impulsiveness.
Aquarius
Mark the next seven weeks in your calendar, Aquarius. With Mars now pushing its way into your career zone, you'll want to make new strides at work between now and the end of October. It will take some hard effort, mind. But the success and satisfaction ahead is sweet. Call me to hear when a money-making idea is spot-on.
Pisces
Do you crave fresh experiences or new people to add a sparkle to your day? Break away from your old boundaries and do something completely different to bring the inspiration you need. But you may need to move at a moment's notice. Be prepared! Call me to hear when to ask for that special favor.
To sign up for OK! Magazine's daily horoscopes on your phone, text the first three letters of your star sign (e.g., SAG) to 63422. Subscription is $2.99 per month billed until you unsubscribe plus message & data rates may apply. Send STOP to 63422 to unsubscribe. Text Help to 63422 for help. Premium charges will be added to your wireless phone bill or deducted from your prepaid account. Subscriber certifies they are the account holder or have account holder's permission. For more info, please visit http://www.okmagazine.com/horoscopes/
Participating carriers include Alltel, AT&T, Boost, Cellular One, Nextel, Sprint, T-Mobile, US Cellular, Verizon Wireless, and Virgin.