NEWS
What's in Your Stars?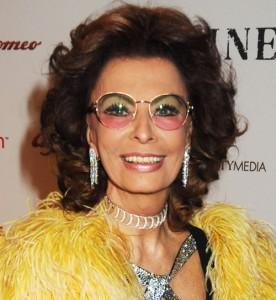 September 20
Today's celeb birthdays
1934: Sophia Loren (76)
1957: Gary Cole (53)
1975: Moon Bloodgood (35)
Virgo
You're usually a brilliant organizer, efficient and precise. But, given today's nebulous cosmic atmosphere, even you might trip over some minor detail or loose end that's been left dangling. Mistakes are rife, people are talking gobble-de-gook or you might be caught unawares. It's a funny old day. Call me to hear when to avoid an embarrassing cash crisis.
Article continues below advertisement
Aries
Events could be slow and frustrating today, Aries. People may let you down, go off sick or not perform at their best. Involved in a joint project? Think creatively. Solutions arrive in a roundabout way. The important thing is to stay flexible and ease off the throttle. Call me to hear when you must avoid that impulse buy.
Taurus
Chances are your instructions are hazy, it's difficult to get through to an official or the boss is downright vague. Or you may start off the week with a headache. But if anyone can get a grip on a difficult or uncertain situation, Taurus, it's you. Call me to hear when you must avoid feeling sorry for yourself.
Gemini
There's a lot of confusion around today and, although you're usually bright as a button, you could find yourself daydreaming or prone to mistakes. If you're traveling, it will pay you to check your tickets and timetable. Things won't really gel until late evening. Call me to hear when impatience could spoil your day.
Cancer
Cancerians often pop back inside their shells when they feel sensitive or the going gets tough. But you seem to be unusually introverted today. If it's any consolation, most people are feeling a little 'off' today, so you're not the only one. Try not to overreact. Call me to hear when you mustn't let painful memories stand in your way.
Article continues below advertisement
Leo
It's a funny old day when people are forgetful or totally get the wrong end of the stick. Partners, too, are in a bit of a reverie, deep in thought and distracted. Perhaps they could do with being taken out of themselves, cheered up or lavished with tlc. Call me to hear when to avoid that emotional outburst.
Libra
Think creatively today, Libra. Good intentions are useless unless you follow through. Children? Be sure you know where they are and what they're doing. Do something special to liven up what could be a dreary Monday evening: think romance, buy a gift, have an evening out. Call me to hear when a little tlc does the trick.
Scorpio
Familiarity sometimes blinds us to the obvious. Today, Scorpio, stay sharp. Check the taps are turned off, the gas hasn't been left on and that you've locked up securely. Have you forgotten something important – shopping to buy, dry-cleaning to pick up, a birthday card to send? Think! Call me to hear when you mustn't give in to emotional depression.
Sagittarius
It's another of those days when it pays to keep checking your schedule, to-do list or personal organizer. If you haven't cleared your in-box, replied to a certain letter or chased up an order, you may come a-cropper today. Double check, too, before you press the 'send'! Call me to hear when a little R&R is seriously required.
Article continues below advertisement
Capricorn
It's not the kind of Monday when you hit the ground running. In fact, you seem to be a little vague and need time to get up to speed. But if you're dealing with finances or business get it all out of the way before lunch. Call me to hear when to avoid a family confrontation.
Aquarius
Is it you, or is it just one of those days? People you call don't answer the phone or aren't where they should be. You're rather dreamy and your mind keeps drifting off. Why not knock off early and go home. Nobody will miss you anyway this afternoon. Call me to hear when home and family must come first.
Pisces
Companies are beginning to recognize that we all need a duvet day now and again. If yours does, you're in luck because it's that kind of day for you. Otherwise, work on your own and, if you're not feeling tip-top, leave early. No-one will miss you after 2pm anyway. Call me to hear when interruptions upset your plans.
To sign up for OK! Magazine's daily horoscopes on your phone, text the first three letters of your star sign (e.g., SAG) to 63422. Subscription is $2.99 per month billed until you unsubscribe plus message & data rates may apply. Send STOP to 63422 to unsubscribe. Text Help to 63422 for help. Premium charges will be added to your wireless phone bill or deducted from your prepaid account. Subscriber certifies they are the account holder or have account holder's permission. For more info, please visit http://www.okmagazine.com/horoscopes/
Participating carriers include Alltel, AT&T, Boost, Cellular One, Nextel, Sprint, T-Mobile, US Cellular, Verizon Wireless, and Virgin.