NEWS
What's in Your Stars - Fri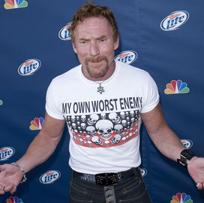 August 13
Today's celeb birthdays
1959: Danny Bonaduce (51)
1963: Sir Mix-a-Lot (47)
1951: Dan Fogelberg (59)
Leo
You may notice today how you're beginning to view life from a different, more philosophical, perspective - well, it's Friday 13th! What's happening is that you're getting in touch with your innermost emotions and a deep, personal change is taking place. Savings? Time to take a whole new tack. Call me to hear when a financial transaction could backfire.
Article continues below advertisement
Aries
Now that Venus is lighting up the relationship angle of your solarscope, your thoughts turn to love. Which is great news after your recent struggles. It may be Friday 13th but events help to put your mind at rest and you won't be feeling quite so restless after today. Call me to hear when passion fires your veins!
Taurus
You've been out of the frame for too long, Taurus. Now it's time to shut the lid on that laptop and get yourself back into the groove. Have your hair done, shop for new clothes, polish your dancing shoes, think lucky and get out there and socialise. Call me to hear when to avoid spicy food upsetting your system.
Gemini
It's nearly the end of the week. But, judging by your stars, it looks like a lucky Friday 13th and the weekend for you begins today! Love, romance, leisure, pleasure, entertainment, shopping and fun are all highlighted. Enjoy your weekend because, come Monday, it's a whole new ball game at work. Call me to hear when family plans are likely to come unstuck.
Cancer
You're putting a lot of energy and effort into home improvements and you may even be nursing plans to move lock, stock and barrel. With wider horizons opening up, you must first consider whether you actually have the time to carry through your ideas. Don't tempt fate. Call me to hear when to watch out for injuries in the house.
Article continues below advertisement
Virgo
You're taking a much keener interest in financial matters and today's strong focus on the money zone of your chart shows you ways to improve your income. But it also hints at a change in your attitude to savings. From now on, things won't be quite so erratic. So it's not an unlucky Friday 13th for you. Call me to hear when you're wise just to chill out and relax.
Libra
The course of true love doesn't always run smoothly - as you've discovered over the last few months. But with rebellious Uranus now moving out of your relationship zone, a new harmony descends. Keep that smile on your face this morning, even though it's Friday 13th, and be daring this afternoon! Call me to hear when you and a friend could end up at cross purposes.
Scorpio
Friends, children, loved ones - put aside your own feelings or misgivings and try not to be so impatient. Showing your sensitive, understanding side is the quickest way to foster that special rapport. Spend time today developing new plans. It may be Friday 13th, but health should start to improve. Call me to hear when it's best not to make any fixed social arrangements.
Sagittarius
Whether it's for personal, business or financial reasons, it's a day filled with people, meetings and discussions. Property? You're getting itchy feet again, Sagittarius, wanting to launch into home improvements, making changes to your living environment or even thinking of moving altogether. Friday 13th doesn't have to be unlucky! Call me to hear when to avoid a sharp falling out with colleagues.
Article continues below advertisement
Capricorn
Discussions with the boss, consultants, VIPs or other official bodies take up the morning with favourable results. Dare-devil is not usually a description associated with Capricorns, but it's Friday 13th and you're in an adventurous mood this afternoon. From now on, a visionary new approach is the key. Call me to hear when you need to keep your wits about you when shopping.
Aquarius
Legal, travel or foreign connections come under favourable stars today, even though it is Friday 13th! So make those calls, bookings and arrangements now. Life around you will start to settle down and you won't feel quite so restless. Finances, however, will have to be monitored more closely from now on. Call me to hear when to avoid a serious misunderstanding with your partner.
Pisces
Whether it concerns your work, health or personal affairs, you're in investigative mode today: digging, delving and finding out. Questions? Here's when you seek the answers. Crazy Uranus' move out of your cash zone is good news for finances. It may be Friday 13th but money won't be so erratic after today. Call me to hear when an agreement isn't worth the paper it's written on.
To sign up for OK! Magazine's daily horoscopes on your phone, text the first three letters of your star sign (e.g., SAG) to 63422. Subscription is $2.99 per month billed until you unsubscribe plus message & data rates may apply. Send STOP to 63422 to unsubscribe. Text Help to 63422 for help. Premium charges will be added to your wireless phone bill or deducted from your prepaid account. Subscriber certifies they are the account holder or have account holder's permission. For more info, please visit http://www.okmagazine.com/horoscopes/
Participating carriers include Alltel, AT&T, Boost, Cellular One, Nextel, Sprint, T-Mobile, US Cellular, Verizon Wireless, and Virgin.