NEWS
Where Are They Now? Lark Voorhies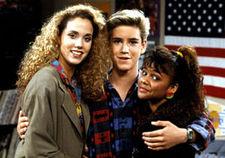 Before Carrie Bradshaw paraded onto our television screens with her Jimmy Choos and Manolos, one Lisa Marie Turtle was the fashion maven of the small-screen in the early 1990s.
The trendy Saved by the Bell clotheshorse went on to attend the Fashion Institute of Technology to follow her calling, and , her real-life alter ego, followed her own muse as well. It doesn't include swatches and runways but, rather, a pen and paper. "I've been writing quite a bit," Lark tells OK! of her years spent since she left the comedy in 1993. "It comes very naturally to me. It's actually been a constant for me for about 10 years."
Article continues below advertisement
Writing comes so natural to the 33-year-old that she penned her screenplay for The Hope for Pandora's Box in just three days. A creative soul who would like a "full career," Lark also executive-produced, starred in and directed the sci-fi movie. Reciprocity, another self-written full-length, is next on her directing and acting plate.
Still, Lark hasn't forgotten about her TV roots, stating that she has a "few projects in the works." As for the gig that made her a star, the single actress says her days at Bayside High will always have a place close to her heart. "Anything that we've done on location has been really exciting," Lark says. "I look back on it fondly with satisfaction and a strong sense of success… good moments and good feelings." But those feelings don't extend to Lisa's loud and funky wardrobe. Suffice it to say, there wasn't much for the taking. "Well," Lark laughs, "I have my own style, so…"