NEWS
Where Did You Get That Dress?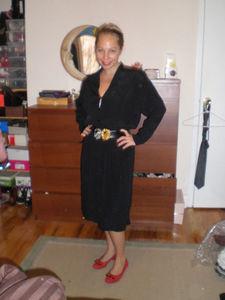 I'm one of those girls that love vintage shopping. In
vintage shops you can find pieces that no one else is likely to be wearing
because they're sometimes decades old and they're a change from the trends that
are mirrored in every store window.
That said, yesterday I got some great vintage finds from a
place I'd never thought to shop before – my 82-year-old grandmother's closet. After
dinner with the family at my grandmother's apartment in Queens the conversation
Article continues below advertisement
turned to clothes, and how much I spend on them - then my grandmother said, "I
have a couple of great expensive old
dresses you may like." I had to repress the 'Are you serious' expression that
was creeping on my face and not to insult her I said I'd look at them. The first one was a polyester number I would have got lost in, but the second I was
surprised to see was a rather nice black dress. After tearing out the one inch
thick shoulder pads, I tried it on and had to admit it would look great with a
belt and some accessories. On cue, my grandmother produced a very cool black
leather belt with silver and a gold lion buckles. Coming together, although I
wasn't offered any family jewels to further accessorize, my aunt then brought
out the most darling vintage red suede Ferragamo flats. I'd seen a similar pair
in a high-end second-hand shop a few weeks ago, but the $100 gems were a half
size too small and not worth the investment just to decorate my over-crowded
shoe closet. But these, I slipped them on and the ruby slippers were a perfect
fit.
Who would have thought that to get an outfit to wear out on
a Saturday night in the city – there's no place like (my grandmother's) home.