NEWS
Which Young Actress Is Anna Wintour Obsessed With?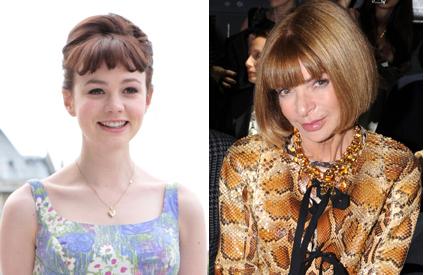 Catching the eye of the most powerful woman in fashion is the kind of thing that could send a young actress's career into orbit. So Carey Mulligan — the 24-year-old British star of An Education — should be thrilled that she has become Vogue editor Anna Wintour's latest celeb obsession.
"I saw the film and I just said, 'this girl is going to be a big star,'" Anna told OK! at the launch of the third floor of Saks Fifth Avenue. "She is a stunning and talented young woman."
Article continues below advertisement
Congrats, Carey!
The British beauty first garnered attention here playing Kitty Bennett in Pride and Prejudice in 2005 but seems to really be gaining notoriety recently, starring in Public Enemies with Johnny Depp, as well as the Nick Hornby penned An Education, alongside Peter Sarsgaard.
Next up is Wall Street 2, with reported boyfriend Shia LaBeouf and Michael Douglas.