NEWS
While You Were Sleeping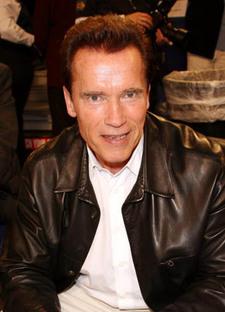 Don't get in The Arnold's way — or else! This past weekend Arnold Schwarzenegger was in Columbus, Ohio, for the Arnold Sports Festival, an annual bodybuilding competition named for The Governator, and made quite an exit. As he was checking out of his room at the Hyatt hotel, Arnold's bodyguards scared fellow hotel patrons. "Get back against the wall! Stay against the wall! Do not move!" his bodyguards shouted at guests, reports Page Six. One brazen fan attempted to get Arnold's autograph but to no avail.
Article continues below advertisement
From stripper to singer! Yesterday it was revealed that American Idol finalist David Hernandez used to take it all off at Dick's Cabaret in Phoenix, Ariz., a mostly male strip club. Hernandez worked at the club for three years but quit in September 2007, most likely in anticipation of his Idol appearance. American Idol has yet to comment on Hernandez' past and whether it would prevent him from competing.
Win or lose, Barack Obama will be back in New York on Thursday to attend a Broadway screening of Cat on a Hot Tin Roof directed by Debbie Allen. Obama and wife Michelle will be joined by close personal friend and campaigner Oprah Winfrey at the play, which stars Terrence Howard. Also sure to be with the presidential hopeful? A legion of Secret Service reps.