NEWS
While You Were Sleeping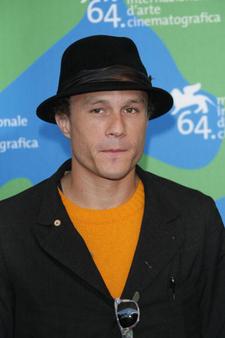 Heath Ledger will be remembered by some as a brilliant actor, but others recall him as the perfect prankster. Monster's Ball producer Lee Daniels reminisced about one particularly effective prank, when he and the cast were staying in a cheap motel. "One day, I turned on the light in my room and saw frogs hopping around!" Daniels told Rush & Molloy. "I was screaming! In the next room, I heard Heath laughing. He knew I didn't like frogs, so he'd gone out and caught some. He was a serious, hardworking actor, but he was also a riot."
Article continues below advertisement
Now that Jessica Alba is pregnant and getting married, she's taking on a motherly persona. The Eye actress consoled Eddie Murphy's ex Tracey Edmonds during the 50 Cent/Myspace concert at TAO Park City. She even shooed away fiancé Cash Warren in order to better counsel the distraught designer, reports Rush & Molloy.
Justin Timberlake's shedding his wild image for tea? The pop icon was recently spotted at London's Dorchester Hotel quietly sipping tea and seeming annoyed by the hijinks of others around him, reports The Mirror. He's in London working on his next record with Madonna.
Scientology maven Tom Cruise received a spanking new motorcycle from Ducati this week. The War of the Worlds star was the first on the list to receive the new Desmosedici RR superbike, a $72,500 machine made from titanium, magnesium and carbon fiber that can go up to 200 mph. Only 1,500 will be made in all.
Today's Birthdays: Gene Hackman (78); Phil Collins (57)