NEWS
While You Were Sleeping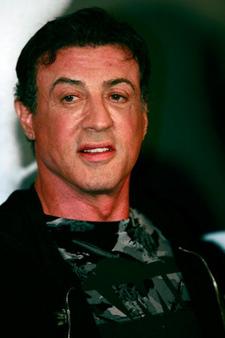 Nothing's quite as funny as domestic violence, at least to Sylvester Stallone. The aged actor appeared on Howard Stern to discuss his newest Rambo film, and dish about his past loves, reports Page Six. When asked about ex-flame Janice Dickinson's assertion that Stallone had injected her with steroids,Stallone responded "the only thing I injected her with was my fist." Ha ha?
U2 frontman and chronic sunglass wearer Bono loves his buddy Al Gore, but says that Uncle Al can be a bit of a drag, according to Rush & Molloy. "It's like being with an Irish priest. You start to confess your sins: 'Father Al, I am not just a noise polluter, I am a noise-polluting, diesel-soaking, Gulfstream-flying rock star. I'm going to kick the habit.I'm trying, Father Al, but oil has been very good for me — those convoys of articulated lorries, petrochemical products, hair gel."
Article continues below advertisement
Charlize Theron and Christopher Walken were with Hasty Pudding awards, given by the Hasty Pudding Theatricals at Harvard University for "lasting and impressive contribution to the world of entertainment." Apparently they really loved Walken's latest effort, Balls of Fury?