NEWS
Whitney Houston is Dead: Celebs from Katy Perry to Rihanna to Justin Bieber Tweet Their Thoughts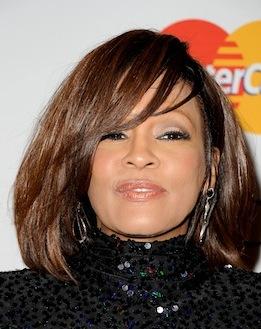 It was announced tonight that Whitney Houston had died at 48 and instantly, condolences from fans as well as almost every celebrity all over the world were pouring in on Twitter. Whitney was beloved by stars from every corner of the industry. Here is just a sampling of them:
Rihanna: No words! Just tears #DearWhitney
Adam Lambert: RIP Whitney
Debbie Gibson: She rightfully beat me for femail vocal AMA's Amazing talent so sad
Article continues below advertisement
Queen Latifah: Oh Dear Lord! Huritng so Bad!!! MY Sister Whitney!!!!!!! Newark please Pray!!! World Please Pray!
Ricky Martin: RIP Whitney Houston. Sending my love and deepest condolences to her family and friends. Fly Whitney Fly
OK! NEWS: WHITNEY HOUSTON IS DEAD AT 48
Missy Elliott: Thank u 4 the times we worked 2gether your Voice touched the World! N this rough time I pray for The Houston Family...
Ciara: with her, forever. This is truly unbelievable. My prayers and condolences to her family at this sad time.
David Cook: Shocking news. RIP Whitney Houston.
Kelly Osbourne: i truly hope you are in peace #WhitneyHouston i feel so honored to have known you! i love you RIP!
Christina Aguilera: We have lost another legend. Love and prayers to Whitney's family. She will be missed.
Harry Shum Jr: Grew up listening to Whitney. This news makes me sad. RIP to a legend, Whitney Houston.
Article continues below advertisement
Pia Toscano: I will never give up this dream... Rest in peace angel.. I Will Always Love You </3
Randy Jackson: wow I am devastated. the world has lost another one of the best voices in history. RIP whitney houston, so fortunate am I to have worked with u, and have u touch my life. may god bless this family.
Nicki Minaj: Jesus Christ, not Whitney Houston. Greatest of all time.
OK! NEWS: WHITNEY HOUSTON ASKED TO JOIN X FACTOR PANEL, REPORTS SAY
Toni Braxton: She's paved the way for every single singer in the music industry. Iconic, legendary, innovating, amazing, humble...1 the best in the world
Lea Michele: I'm speechless. Such sad news about Whitney Houston..
Justin Bieber: just heard the news. so crazy. One of the GREATEST VOICES EVER just passed. RIP Whitney Houston. My prayers go out to her friends and family
Katy Perry: So devastating. We will always love you Whitney, R.I.P.
Article continues below advertisement
Diddy: Whitney Houston!!! OMG!! I really can't believe this.. This is one of the saddest days ever..
Kathy Griffin: She was A TALENT & A LEGEND. She was never a "reality star" No jokes from me about Miss Houston today.
Amber Riley: I had to pull over off the road. RIP Whitney Houston. I'm glad now that I got to meet you and thank you for your beautiful music.
Toni Braxton: My heart is weeping...RIP to the Legendary Diva & Icon Whitney Houston!!!!! Such an incredible influence over music as a whole!
Nina Dobrev: #iwillalwaysloveyou is one of the most beautiful and iconic songs. It will be remembered forever. Rest in peace Whitney Houston
Wyclef Jean: This is the saddest thing I've ever had to write in my life, R I P to one of the greatest humans that I have ever known Whitney Houston
Paris Jacksoη: R.I.P. Whitney Huston, I've always idolized her and her amazing talent <3
Mariah Carey: Heartbroken and in tears over the shocking death of my friend, the incomparable Ms. Whitney Houston.
Goldie Hawn: I am so very sad to hear of Whitney Houston's passing. She was one of our great artist that graced us all. May she rest in peace.
Demi Lovato: I Look To You - Whitney Houston.... :'(
NeNe Leakes: OMG Noooooooo! I was just @ an event Thursday & Whitney was there! I can't right now
Kourtney Kardashian: Wow! I just heard of Whitney Houston's passing. My heart and prayers go out to her daughter. She will always be remembered. Very tragic.