NEWS
Whitney Houston's Album & Digital Song Sales Skyrocket After Her Death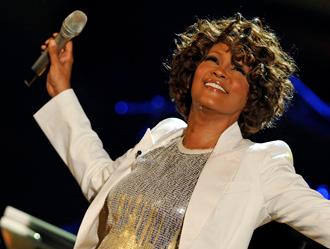 Just like what happened after the untimely deaths of Amy Winehouse and Michael Jackson, Whitney Houston's album sales have exploded, as well as her digital-track downloads, since her death on Saturday.
Whitney's only hits collection, Whitney: The Greatest Hits, is bound to enter Billboard's Top 10, after selling 64,000 in the day and a half after her passing. And those numbers don't even include the sales that have happened since Monday! Billboard executives say that if her greatest hits album were better, Whitney would have sold even more copies.
Article continues below advertisement
OK! VIDEO: AMBER RILEY SINGS TRIBUTE TO WHITNEY HOUSTON ON GLEE
"Most big pop stars have a perfect great hits, and Whitney doesn't, and that could factor into how the sales play out. I do think her track sales are going to be really big," Billboard's associate director of charts Keith Caulfield tells MTV News. "It's a flawed greatest hits to a lot of people. Half of it is remixes of her dance songs, so it's not the familiar version of 'I Wanna Dance With Somebody.' It's not the perfect greatest-hits package for fans to turn to, so I don't think it's going to sell as well as Jackson's." But fans are reaching for other albums, including her 1986 debut record, Whitney Houston, and the soundtrack to The Bodyguard. Billboard reports that more people have purchased Whitney's albums in the past week — 101,000 copies have been sold — then in all of 2011 and 2012 to date. Not to mention, there were 887,000 downloads of her digital tracks over the past week, with "I Will Always Love You" sitting at No. 2 on the chart, behind Katy Perry's "Part of Me." OK! NEWS: WHITNEY HOUSTON MEMORIAL AT PRUDENTIAL CENTER IN NEWARK CANCELED! Seven other Whitney songs hit the charts as well, including "I Wanna Dance With Somebody," "Greatest Love of All," "How Will I Know," "I Have Nothing," and "Saving All My Love for You." Have you stocked up on Whitney's music?