NEWS
Whitney & Jay Are the Real Thing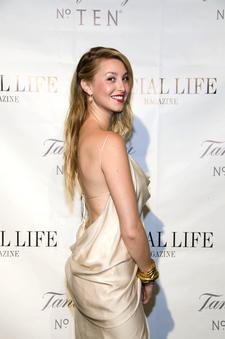 The relationship between The City's Whitney Port, 23, and her Aussie hunk boyfriend, Jay Lyon, may be in the early stages on the hit MTV show, but Jay says things are much more serious.
"She's a great girl and I love spending time with her," Jay told OK! at the MAC Cosmetics Hello Kitty Party on Feb. 5 in NYC.
The handsome rocker also revealed Whitney's received the most important approval of all--from his mum! "They like each other," says Jay, who admits to being nervous met when he met Whitney's parents. "You're always nervous when you meet the parents but they embraced me pretty well."
Article continues below advertisement
Although Jay used to date Orlando Bloom's girlfriend, Victoria's Secret model Miranda Kerr, he says it's never easy having a public relationship--especially when cameras are following 24/7.
"I mean of course, it's a pretty weird situation for any person to have to go through," Jay. "But we deal with it pretty well so I can't complain."
When the cameras aren't running, Whitney's got Jay wrapped around her finger. "We saw The Little Mermaid," he says of their most romantic date, which he admits was Whitney's idea.
The City might take the show out of the Big Apple for a bit if Whitney decides to join Jay on tour. "My band, Tamarama, we're going to be touring a lot," says Jay. "I hope she comes."
And as for reports that their relationship is all show, Jay says their love is completely real. "She's definitely a keeper," Jay says. "She's really sweet and of course I want to hold on to her."
By Laura Lane