NEWS
Whitney Port Connects Friendship and Fitness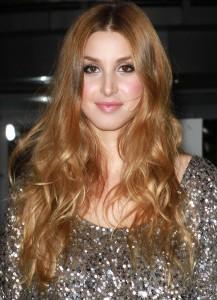 When Whitney Port needs motivation to exercise, she dials up her workout buddy and best friend Joanna.
"She takes a spinning class at the same time while I'm outside," the reality star, 25, whose Hulu series Genuine Ken is out now, tells me. "Just to have her there is fun."
The two have known each other since they were tots, but their relationship hasn't always been rosy.
"We went to Mommy and Me together," she says. "I've known her since I was a baby. She was a big bully. We had a lot of problems. We had a lot of fights. It was funny, but it turned out great."
Article continues below advertisement
She explains, "We went through this process of – not like therapy in school – but our second-grade teacher would call us in at lunchtime and we'd have to talk to each other and express how we were feeling about each other. laughs Somehow, we ended up loving each other."
For Whitney, having a lifelong best friend has been "amazing."
"Those are pretty much my only friends, the people that I've grown up with, because those are my roots. Other than that, I don't make many new friends."
Typically, the reality star has no trouble gearing up for hour-long workouts 3-4 times per week, and prefers to workout alone – even if it helps to know Joanna is a spinning class away.
"I do cardio for 35-45 minutes, whether that's on the elliptical or walking or running on the treadmill, I switch back and forth because I can get bored at times. Then, I'll go do some weights – I'll do some bicep curls, pushups, sit-ups. As long as I'm in the gym three times a week, I'm happy."
Article continues below advertisement
Making fitness a priority isn't easy, but Whitney shares her strategy.
"I make sure to fit it in. It always depends. I'm not one of those people who goes at the same time every day because my day is so different every day, so it depends when I can get an hour in there, and I'll go."
She adds, "I feel like working out is something where I can be alone with my own thoughts and release all that tension."
To make sure she gets the most out of her gym time, Whitney wears Puma BodyTrain sneakers.
"These are shoes that work your leg muscles while you're simply walking – whether you're going to the gym or simply walking around, you're getting double the amount of action in your legs, so it's great."
Staying in shape helps her keep her diet in check.
She considers eating too much bread to be her biggest food obstacle, but stops herself from going overboard.
"I love bread, so I don't eat too much by just being able to say 'no' to it. I say 'no – I'm eating too much.'"
But she has her food pet peeves.
"I don't like when people are chewing loudly around me because it's annoying."
Here's my pic with Whitney:
Go to Geunineken.com to watch Whitney in action. And, pick up the OK! on newsstands now to get more Whitney. The cover line is "Kourtney and Scott Exclusive: Engaged To Be Married!"