NEWS
Who Has the Best New Single? Listen to New Songs from John Mayer, M.I.A, and More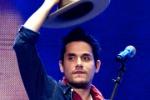 Looking for a little somethin' somethin' to shake up this work day? Tuesdays can be a little slow, especially when it's summer and you'd rather be hanging at the beach than in your cube. Listen to these four new pop songs to get your energy back, then vote on your fave!
OK! News: Stream a playlist of the best Jay-Z songs ever before his new album hits!
You may remember her from her middle finger at the Super Bowl or that inescapable song "Paper Planes," but if that's all you know about M.I.A. prepare to enjoy her new song "Bring the Noize." It's a kinetic, crazy little item that will surely be remixed very much in the months to come.
Article continues below advertisement
Nickelodeon star Victoria Justice has a fizzy, happy summer song, "Gold." It should be played an outdoor bar while you sip something fruity. You will be singing along to the chorus before the three minutes are up.
John Mayer released a new slow jam called "Paper Doll," a very chill Sunday afternoon in a hammock kind of tune. The best part for me, so far, is this bizarre music video. You must see to believe. The man is twisted.
Fifth Harmony is a girl group that formed from the X Factor, and their first song is a contender, along with "Since U Been Gone," for most killer break-up song. Are you in need? Get ready to crank it up.
What do you think of these songs? Which is your type of music? Do you think you'll be playing any of them all summer long? Tell us in the comments below or tweet us @OKMagazine.