NEWS
Who is Sabotaging Bachelorette Ashley Hebert?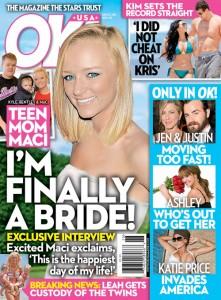 This season of The Bachelorette is still brand new, yet Ashley Hebert has already known betrayal, self-doubt and heartbreak. But it's even worse than she thinks. Before she even arrived on the set of The Bachelorette, a woman she called a friend was spreading ugly lies about her. OK! has the latest scoop in this week's issue!
Article continues below advertisement
Fans of the show know that last season's Bachelor contestant Michelle Money contacted Ashley to warn her that Bentley Williams was insincere. OK! can exclusively reveal that Michelle also touched base with Bentley's ex-wife, Suzette Davis, to gossip about Ashley!
"Before Bentley went on the show his ex-wife had been in communication with Michelle," Bentley's pal Mark Adams tells OK! exclusively. "She sent a text to Suzette and she passed it on to Bentley. It said, 'Ashley is a staunch atheist... so good luck to him with that.' " That information didn't sit too well with Bentley, a strict Mormon.
Michelle's text, according to Mark, also claimed that Ashley suffered from flatulence!
"Bentley had a bad impression of Ashley before he went on the show so he was never going to be too interested in her," says Mark. Bentley broke Ashley's heart by wooing her and then leaving the show, all while he was bad-mouthing her behind her back.
Article continues below advertisement
Why did Michelle do it? Jealousy, of course. Michelle competed against Ashley and eventual winner Emily Maynard for the love of Brad Womack. After Emily walked away with Brad's ring, there was some Internet buzz about Michelle becoming the next Bachelorette, but instead the producers chose Ashley.
Many of the guys teased Ashley that they'd signed up hoping Emily would be the Bachelorette. So it wouldn't have been surprising if Emily had been the troublemaker. But Emily has been a real ally.
"I think the world of Ashley," she's said. After seeing Bentley's cruelty, a show insider says, "Emily sent a text to Ashley asking to talk. They spoke on the phone for almost 45 minutes. Emily told her how much she admired her poise, and urged her to maintain her sense of humor and not take it all too seriously. She was adamant about saying what a jerk Bentley was and how much better off she was to find out now."
FOR MORE ON ASHLEY'S STRUGGLE, PICK UP THIS WEEK OF OK! - ON SALE EVERYWHERE NOW!