NEWS
Who Wants to Punch Michael Lohan?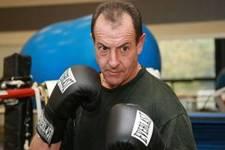 Who wants to punch Michael Lohan? Besides Samantha Ronson, that is.
Lindsay Lohan's chatty dad is issuing an open invitation to take a swipe at him in the boxing ring on April 3 at the Philadelphia Airport Ramada. The classy event is being presented by the Celebrity Boxing Federation (yes, that exists) and SmokingEverywhere.com. Anyone and everyone can sign up to take on Lilo's trash-talking father.
Article continues below advertisement
In a statement Michael says, "I have had many people critique my life and career and on April 3rd I will take all my aggressions out on my opponent. It does not matter their size or experience I will take them down."
If we were the betting kind we'd say Sam's practicing her right hook right about now...