NEWS
Who Will Win 'The X Factor'? Melanie Amaro, Josh Krajcik and Chris Rene's Finale Thoughts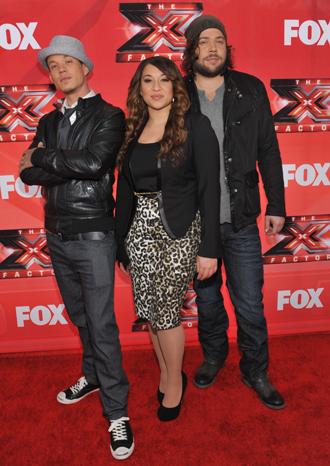 Last night on Part 1 of The X Factor's two-night finale, Melanie Amaro, Josh Krajcik and Chris Rene came out on that big stage and blew everyone away. First, they each had a celebrity duet. Melanie with R. Kelly, Josh with Avril Lavigne and Chris with Alanis Morissette.
Were they happy with their duet partners?
"Alanis wanted to sing with me," Josh said. "I am flustered right now just thinking about it. She is amazing. Her voice is obviously enormous, and I got a big voice so I thought it was a great pairing and that song was a beautiful song."
Article continues below advertisement
Melanie shared, "I mean how many people can say they sang with R. Kelly? Can you say that? I was really happy."
And Chris had a blast up on the stage, rocking it out with Avril. "Dude, that's Avril Lavigne folks. She is an amazing artist and that's why."
OK! NEWS: LANCE BASS PREDICTS MELANIE AMARO WILL WIN THE X FACTOR
The three finalists ended the performance portion of the show with Melanie singing "Listen," Josh doing an acoustic guitar version of "At Last," and Chris bringing out "Young Homie." Coincidentally, all songs that they had sung at their X Factor audition. Bringing it all full circle was the name of the game.
But now that all of the voting is said and done, would they change their mentor if they had the chance?
Chris says about L.A. Reid, "No way, hell no!" Melanie, of course, feels the same about Simon Cowell, "To be honest, if I had to choose, it will still be the same. But all of the mentors have been amazing."
OK! GALLERY: THE X FACTOR MENTORS AND FINALISTS PREPARE FOR THE FINALE
And Josh is all about his mentor, Nicole Scherzinger: "Nicole was absolutely the right mentor for me. She never tried to change what I was. She never got in my way with what I wanted to do. She was the absolute, without question, the right match for me."
But the real question is: Who will win? Each of them gave it their all and it's now up to the viewer's votes. All will be revealed tonight at 8 p.m. on Fox!
Reporting by Gena Oppenheim