NEWS
Who'll Make the Cut?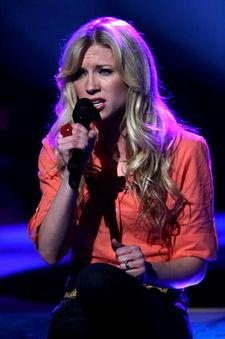 Following last week's overall lack of "wow" from the female semifinalists on American Idol, Wednesday's performances reminded the judges (and the viewers at home) why some of these ladies made it to the top 24 in the first place.
The trophy for the biggest turnaround from last week should definitely be handed to Amanda Overmeyer, who only a week ago looked to be a shoo-in for being ousted after a head-scratching (and hair-raising) performance. But last night, the bluesy nurse from Indiana belted out a version of Joan Jett's "I Hate Myself for Lovin' You" that even Simon thought was "one of my favorite performances of this competition."
Article continues below advertisement
But while Amanda was winning raves from Simon, the ornery Brit had ominous things to say about two of her fellow semifinalists. Following Kady Malloy's rendition of Queen sorta-hit "Who Wants to Live Forever?", Simon once again picked on her for what he sees as a "massive lack of personality," calling her a "robot" and a "Stepford wife" before telling her, "you may be in trouble."
Another dark prediction from king of darkness Cowell came after Kristy Lee Cook took on Journey's mega-smash "Faithfully." And in spite of the fact that Randy and Paula both thought the cute contestant from Oregon could have a hit with her countrified version of the arena rock ballad, Simon had to rain on her parade, calling her "forgettable" and predicting that "at best I can see you coming in tenth" in the competition.
Once again, the highest praise of the night was reserved for Brooke White. Last week, she was given props for her note-perfect version of "You're So Vain," and last night her stripped-down, bare-bones performance of Pat Benatar's "Love Is a Battlefield" won over all three judges, especially Simon, who obviously sees the singer as a front-runner.
So now these eight women — and the eight men who performed Tuesday night — wait as America's votes are counted. Tune in Thursday night to see which of these hopeful singers will make it to the finals. Who would you pick?