NEWS
Whoopi Goldberg Calls Charlie Sheen A "Drug User"; Recalls Her Own Drug History on 'The View'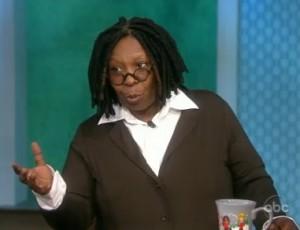 Whoopi Goldberg called Charlie Sheen an "alcoholic" and "drug user" on Wednesday's The View. But to be fair, she also owned up to her history of being a "drug addict."
OK! NEWS: CHARLIE SHEEN'S REHAB FACLITY — HIS HOUSE?
The ladies of The View discussed a recent report that Charlie decide to continue filming Two and a Half Men instead of going into rehab, Entertainment Weekly reports.
"He is an alcoholic, he is a drug user," Whoopi said of Charlie (via EW). "He knows he has a lot of people he's responsible for" on the Two and a Half Men production company
Article continues below advertisement
"Having been a drug addict I feel I can say this… I was a functioning drug addict, I showed up for work because I knew a lot of people would be out of work and I wouldn't get a check that i needed to buy my drugs."
"I ended up sitting sat on a bed for three or four days scared there was something under the bed," she continued. "I wet the bed, I pooped the bed… I was so scared. I hit bottom. I did that a long time ago."
OK! NEWS: CHARLIE SHEEN'S REHAB IMPACTS CREW IN THEIR WALLETS
While Whoopi said Charlie could do both rehab and work, "this isn't the producers' decision to make. Until Charlie makes the decision that he's ready and willing to stop doing what he's doing… he's not there yet."
As for Whoopi, she says she is "as straight as an arrow" now.