NEWS
Whoopi Goldberg Farts While Interviewing Claire Danes On 'The View!'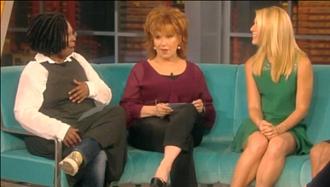 Let's just say Whoopi Goldberg knows how to stand out. The View co-host accidentally let one rip this morning, while filming a live interview with Golden Globe nominee, Homeland 's Claire Danes. And no, it wasn't a whoopee cushion. Now THAT'S embarrassing.
The loud fart didn't come at the most ideal time, either. Claire was in the middle of talking about homeland security issues in the aftermath of 9/11 when Whoopi lifted a cheek and let it out. (Did we mention this is her second time passing gas on live TV this year?) 
Article continues below advertisement
Watch the hilarious clip below!