NEWS
Whoopi Owes Her Oscar to Patrick Swayze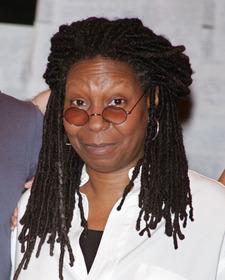 On The View this morning, Whoopi Goldberg talked about working with Patrick Swayze, who confirmed yesterday that he's battling pancreatic cancer, in their 1990 hit movie, Ghost.
''When I won my Academy Award, the only person I really thanked was Patrick," she explained. Whoopi won a Best Supporting Actress Oscar for her role as a psychic, Oda Mae Brown, communicating with the ghost of Sam Wheat (played by Patrick) in the film.
Article continues below advertisement
She also said that Patrick was the driving force behind her being cast in the film. He convinced director Jerry Zucker to put Whoopi in the movie. Whoopi said that Patrick told him, ''I'm not making this movie unless you put Whoopi Goldberg in there.''
Although she has not yet spoken with Patrick, she said, ''We want you to feel better — we'll talk soon, I hope."