NEWS
Whose Butt is Tyra Grabbing?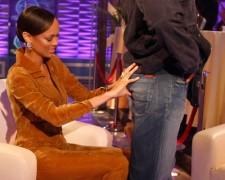 On Tuesday's episode of The Tyra Show, host Tyra Banks helps herself to more than a handful of a mystery guest's booty. So who exactly is the daytime diva feeling up?
Tyra latched on to the backside of none other than 50 Cent, after the rapper/actor talked about filming a scene featuring his bare backside in his upcoming movie.
The entertainer also revealed that his back pockets might seem more full than the average guys because he always carries $25K in cash, "just in case something happens... I don't know whether I'll have to buy something or not."
Article continues below advertisement
"I've never in my life seen anybody with that much money in their back pocket," Tyra confesses.
"I like to have cash on me because it feels like I have money," added 50.
Maybe it feels that way because, well, you do have money — at least $25,000 of it!