NEWS
Why Ben Stiller Won't Renew His Wedding Vows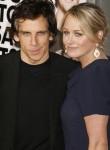 Although Mariah Carey and Nick Cannon, Heidi Klum and Seal and Tori Spelling and Dean McDermott recently renewed their wedding vows, Ben Stiller and wife Christine Taylor won't be following the trend for their tenth anniversary, which takes place tomorrow.
"If your relationship is in good shape and you're communicating with each other and you're close, then that's what's important," the actor, 44, tells me during the Time 100 Gala held in NYC last week.
Article continues below advertisement
He adds, "The vows thing is the vows, but I think it has to be implicit that you meant it the first time."
Hm, what is it like when Tom Cruise and Katie Holmes bring their daughter Suri, 4, over to play with their kids Ella, 8, and Quinlin, 4?
"These are just people," he says. "They're human beings like all of us."