NEWS
Why Is Britney Driving?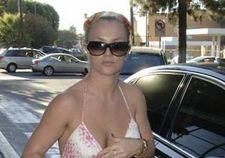 Considering the pending hit-and-run charges filed against , and the revelation that she did not have a valid California driver's license at the time of the August 6 incident (click for the second-by-second pics!) many are asking "Why is she still on the road?"
To answer this question, OK! went straight to someone who could answer that question, City Attorney Rockard Delgadillo, who explains that the lack of a valid
Article continues below advertisement
license at the scene of the accident was "a secondary charge" and all
"charges that were filed were based on the August 6th incident," implying that Brit has had some time to fix her situation at the DMV.
With Delgadillo explaining that "there would need to be another infraction" for Brit to get pulled over, the pop princess is apparently clear to hit the roads of California. For now, at least.
Meanwhile, the platinum-selling singer might have some bigger things to worry about in her ongoing custody battle with ex-hubby Kevin Federline. Click for details.