NEWS
Why Does Martha Stewart Adore Rappers?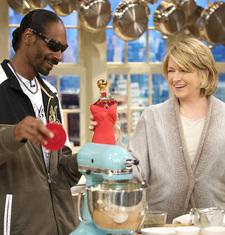 Some of our favorite bizarre TV moments lately have been Martha Stewart trading household tips with Snoop Dogg, and teaching LL Cool J how to make scary Halloween decorations.
And when the housekeeping guru was relaunching her show in 2005 after her spell in the big house, she picked P Diddy as one of her first guests.
Clearly, Martha has a bit of a thing for rappers.
At a party to celebrate the dedication of the Robert F. Kennedy bridge in New York on same day Snoop showed her the secret to 'cognac potatoes' on the show, she told OK! why.
Article continues below advertisement
"I like these guys," she told us. "I like their music, I like their expression and they're fun. They're actually good guests. And that's important."
In fact, she says, "they're great guests."
"Snoop was fabulous!," she said. "I can't wait for P Diddy to come back."
Now she didn't say so, but would it be too much to imagine that Martha has a new-found affinity with Diddy and Snoop — both of whom have had their own battles with the law — since she came out of the clink?
We kind of like to imagine Martha and the guys back in the green room before the show trading tales about life under lock and key!
By Oliver Coleman