NEWS
Why Kim Kardashian & Reggie Bush Really Broke Up!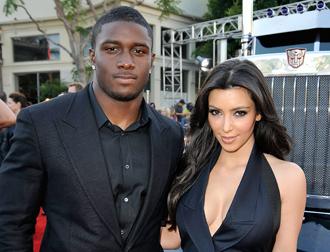 Now that Kim Kardashian and Kris Humphries are history, those closest to Kim think Reggie Bush would have been the better man for Kim to marry and that the former couple never should have called it quits. So what caused Reggie and Kim to split in the first place? Mayra Veronica, who was spotted with Reggie after the breakup and is still friends with him, sat down with OK! exclusively to set the record straight.
Article continues below advertisement
OK! NEWS: KRIS HUMPHRIES TELLS FRIENDS ENGAGEMENT TO KIM KARDASHIAN WAS PLANNED
Was there an initial attraction between you and Reggie?
We met at a sports event six years ago in Century City in California. Was there an attraction? Of course. Reggie grew up in San Diego around Latins and loves the Latina look. Plus, he's very handsome and charming, so of course, I was attracted! What's not to like?
What happened next?
We began talking, but I was involved with someone else. I couldn't even give him what he deserved, although I wished I could have. I had been in a relationship for a really long time — 12 years — and have always been hesitant about being with someone in the limelight. There's enough of the industry with me, so I always look for someone outside of it. I didn't realize Reggie is actually very outside of it; he's not the limelight-seeking type, which is one of the things I admire about him.
Article continues below advertisement
OK! NEWS: AMBER ROSE CLAIMS KIM KARDASHIAN CHEATED WITH KANYE WEST
After that?
Three months later, Reggie met Kim Kardashian, who's got the same type of look that he's into: dark hair, curvy. She looked Latin, although she's Armenian. I was happy for his relationship, but I always felt he deserved someone who was 100 percent dedicated to him, and I often told him that. I felt he needed a girl that would make him the center of her world. When you are in the entertainment world, it's hard to do that for someone when you are more enthralled with your career; which was also the case with me. We were friends while they were together. We did talk very often. I actually received a message from Kim, after I responded to one of his e-mails, telling me to stop replying to Reggie. I explained to her it wasn't my style to be with him while he was involved with her.
FOR MORE OF MAYRA'S INTERVIEW WITH OK! AND HER STATUS WITH REGGIE BUSH NOW, PICK UP THE NEW ISSUE OF OK! — IN STORES NOW!